CMTC-OVM Members Conference USA 2018
CMTC-OVM Members Conference USA 2018
Report CMTC-OVM Members Conference USA 2018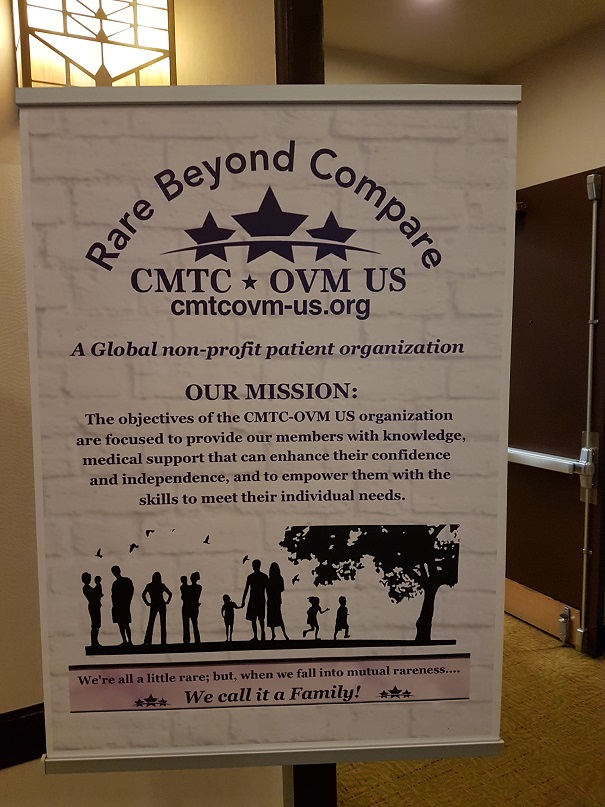 On the 21st of July, the American CMTC-OVM organized the annual conference in Chicago.
The evening before, participants were treated to pizza and the children enjoyed the hotel's swimming pool.
The number of attendees amounted to about 30 (5 families in addition to the board). Three doctors gave presentations and two of them conducted medical diagnoses. The entire program was printed professionally in a nice folder.
Dr. Joan Tamburro
Joan works as children's dermatologist at the Cleveland Clinic.
Her presentation was entitled 'CMTC: different paths to health'. She described the influences of culture/society, the health system and education on health literacy.
Culture/society: parents pass on their beliefs to their children, communities share their health convictions and the Internet spreads health beliefs all over the world.
Health system: through public and school programs, people are working on it.
She asked the following question: do diagnoses cause damage and do they not help at all?
When a doctor is able to make a diagnosis, they feel like they have achieved something. It also helps the patient and their family (the doctor knows best).
But…
What happens if our knowledge changes and because of that, we no longer use new information to help the patient? Or what if a doctor makes a diagnosis, but doesn't have the information to explain it? Or what happens if the visual diagnosis is made with various problems?
Joan proposes to divide patients with capillary malformations into the following main clinical patterns:
Naevus simplex.
Port-wine stain.
Reticulated shell capillary malformation.
Geographical capillary malformation.
Capillary malformation-arteriovenous malformation (CM-AVM).
CMTC and telangiectasia.
Dr. Rocio Moran
Rocio works as a pediatrician and specializes in clinical and molecular genetics.
In the genetics field of vascular malformations, a lot is going on. Rocio presented the current state of affairs.
She suggested, among other things, that a negative test result does not exclude a diagnosis.
In her opinion, CMTC is extremely rare. She based this on the fact that there are less than 200 medical reports related to CMTC and that there are fewer than 300 cases described worldwide. People found some overlap with other conditions. To date, the genetics are mostly unknown (a report of 2015 calls it ARL6IP6 germline).
It is possible that 2 different diseases have the same genetic mutation. Mutations in the same gene do not necessarily result in the same error of that gene.
Dr. Beth Ann Drolet
Beth Ann is children's dermatologist at the hospital in Wisconsin.
She described how the genetics of moles is changing cancer theory and the confirming individual genetic diversity.
Dr. Linda Rozell-Shannon
Linda is an old friend of ours. She is the founder of the American Vascular Birthmark Foundation (website) and has invited Lex to the VBF Conference in Boston in 2006. In May 2018, Linda was also present during the ISSVA conference in Amsterdam.
The website of VBF monthly receives 3 million visits and on it, we are listed as CMTC experts.
With a team of medical specialists, Linda regularly visits many countries (such as Italy and Russia in July 2018) to make medical diagnoses and conduct laser treatments.
She described that 2 doctors found a new approach in the field of laser treatment and that they start it around 2-3 weeks after birth. In Linda's view, the results are promising.
Linda gave 2 presentations.
Need for uniform standards
It turns out that patients regularly receive different and inconsistent diagnoses and treatments. They travel all over the world to receive a proper diagnosis and treatment. It seems that doctors are not aware of the latest developments. The following problem areas have been identified:
Inconsistent terminology.
Inconsistent treatment protocols.
Inconsistent treatment options and information presented to the family.
Inconsistent research.
Inconsistent ownership of medical specialists for creating uniform guidelines.
Psychosocial trauma in families with a birthmark
It turns out that families with someone who has a birthmark have often been bullied. Parents are accused of child abuse (especially at CMTC because of the bruising). Since finding the right treatment can be difficult, the families often suffer from high-stress levels. The VBF has an anti-bullying policy and has, among other things, developed a logo for this.
People with moles are bullied in various ways:
Verbal. Berating, insulting and threatening.
Social. Rude gestures and receiving all kinds of assumptions.
Cyber. Rude comments for example via Facebook.
Linda also described the effect on parents and siblings. This aspect will also receive more and more attention (in 2018, in the Netherlands, during our Global Conference we will organize a separate parallel session on it). Everywhere, it often occurs that parents accused of child abuse. It also turns out that teachers in schools do not know to deal with the issue of a child with a birthmark. Brothers and sisters of a child with a birthmark get involved in fights when their brother/sister is bullied.
Linda suggests the following approach:
Improve awareness through training.
Fight bullying through training.
Educating friends of the same age (especially best friends).
Educating family, classmates, teachers and medical professionals.
Other topics discussed
In the media, it has already been mentioned many times that people's information is misused on/by Facebook. We (the Canadian, Dutch and UNITED STATES organizations) have a number of closed groups on Facebook and the USA organization has offered members who do not want to share all kinds of private information the option to do this through the USA website (private member network).
In a number of cases, to carry out genetic research, a biopsy is taken from, for example, the affected leg and the non-affected leg. Genetically, no differences were found.
Creating a central medical CMTC registry was mentioned. Of course, there will be very high requirements, in particular when it comes to privacy.