Eurordis 2006 – Berlin
Eurordis 2006 – Berlin
Report Eurordis 2006 – Berlin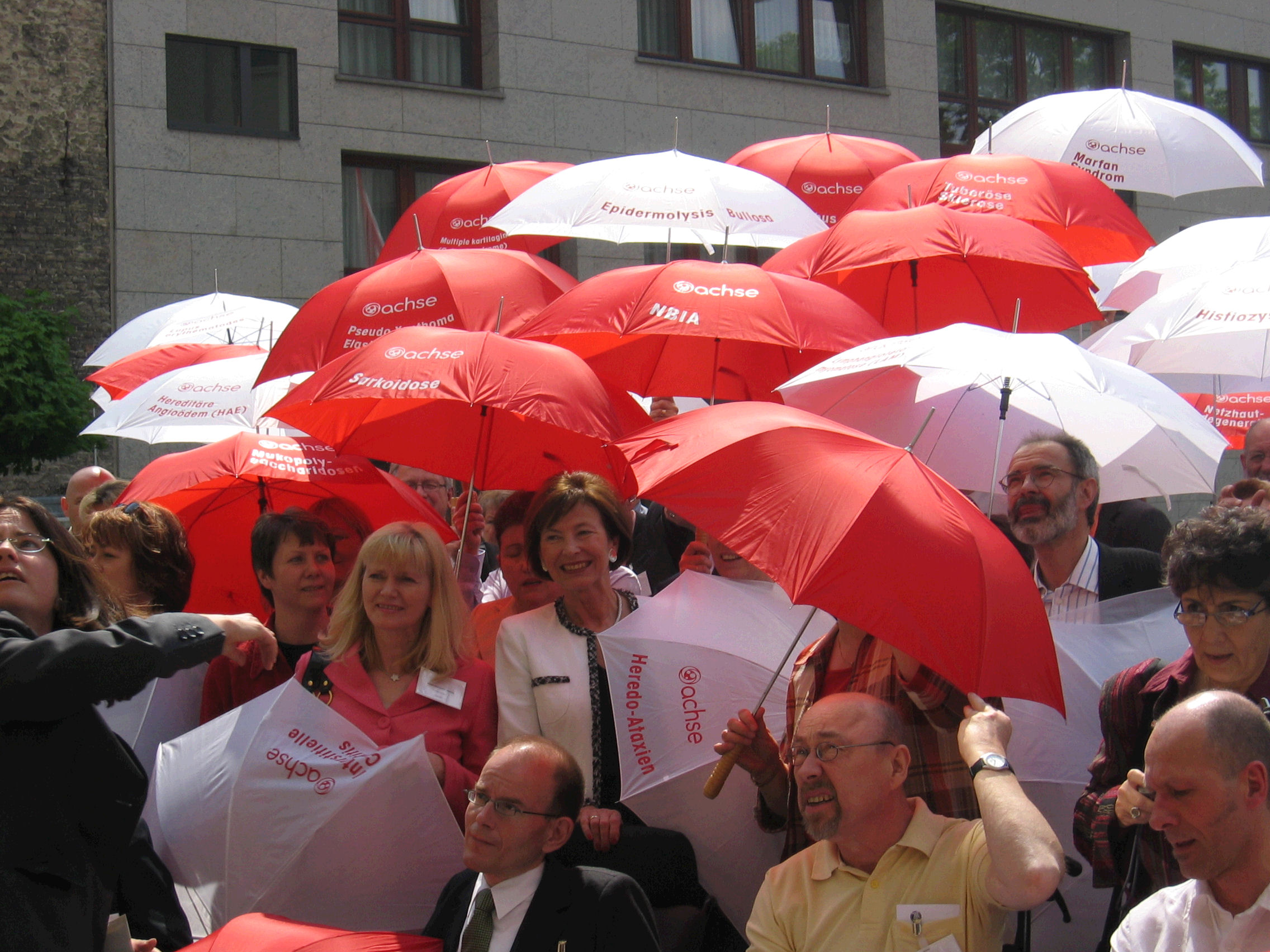 On 5 and 6 May Eurordis (the European non-profit organization for people with rare diseases in Europe) organized a conference in Berlin.
Lex van der Heijden represented our association there. It appears that rare diseases are starting to receive more and more focus and attention in several countries. The wife of the German President Eva Köhler is the patron of people with rare diseases in Germany. In this context, all participants at this conference (approximately 175 people from 19 countries) were invited for cocktails at the castle of the German couple.
Both the wife of the President of the German Federal Republic and the President spent nearly two hours in a very relaxed and pleasant atmosphere and Lex also had an opportunity to speak with both personally and present Eva Köhler with a CMTC pen. German television was also present.
Almost every organization present had an umbrella made for them; unfortunately not ours. One of the many topics discussed during the conference was the concept of "centers of reference". Roughly translated, this means: "where should I go with disease X". In consultation with Prof. Orange and Dr. van Steensel, I proposed that the Academic Hospitals in Rotterdam and Maastricht serve as reference centers for CMTC.
On Saturday, approximately 60 people participated in a brainstorming session with the aim of proposing ten points in the field of specialized care centers which we as international patient organizations consider important. These points will then be discussed with the European Commission. More background information on this conference can be found on the Eurordis website: www.eurordis.org All presentations have been archived in the members and physicians area of the CMTC website, along with some pictures. Partly thanks to the accumulated personal contacts with both the Director of Eurordis (Terkel Andersen) and several other staff members of the Eurordis organization. our CMTC organization has made an impression within Eurordis: the photo of our CMTC information leaflet (and also a poster) appears on the front of the Eurordis folder.