Eurordis 2017 – Budapest
Eurordis 2017 – Budapest
Report Eurordis 2017 – Budapest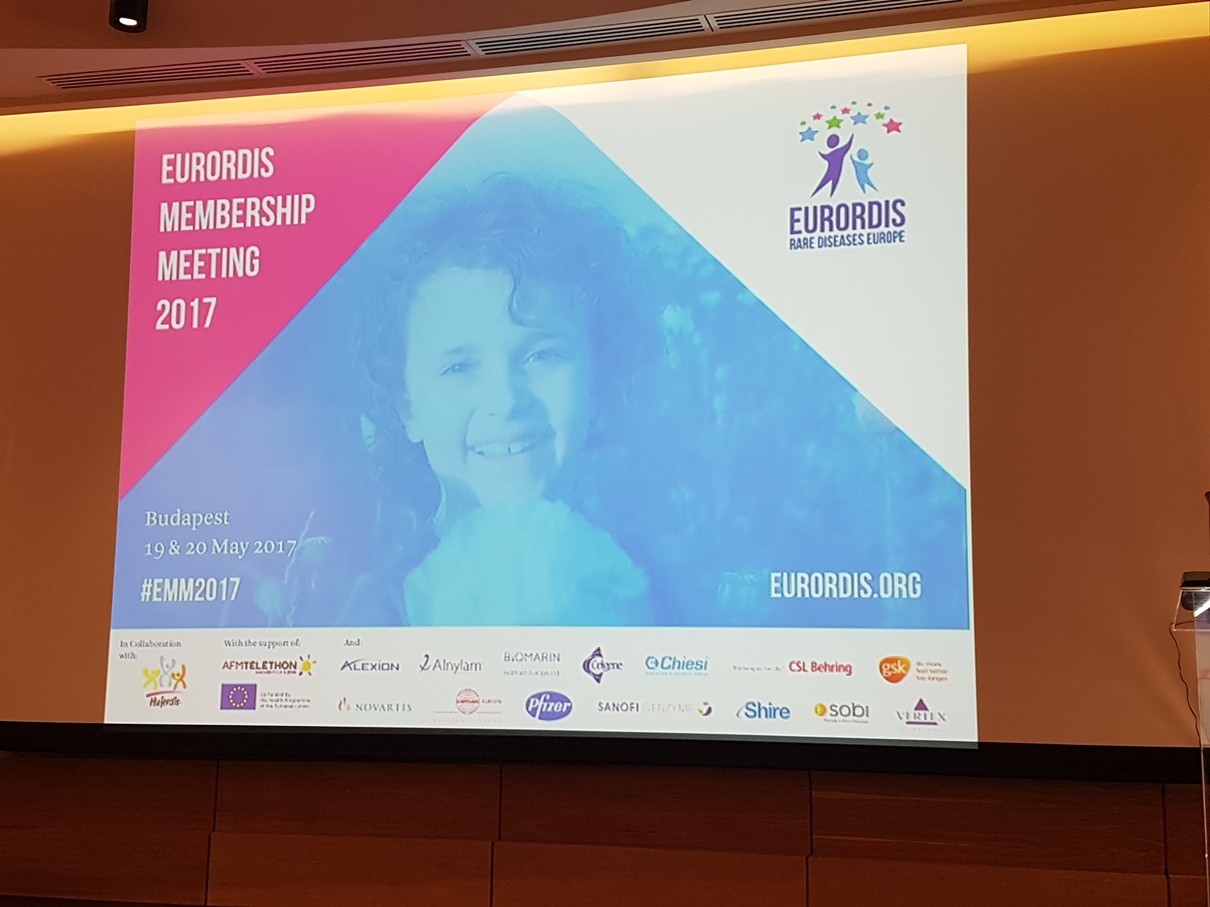 The European Organization for rare diseases, Eurordis, has achieved a great deal in the past 20 years.
This became evident during the annual conference in Budapest, Hungary on 19th and 20th May. Especially the start of European Reference Networks has been an important step forward in improving access to diagnosis and treatment of rare diseases.
About 270 people from 38 countries attended the conference. On behalf of the CMTC-OVM organization, Jacob Schipper and Lex van der Heijden participated in this conference. Attending with two people, they were able to participate in more workshops at the same time, network more and get more information from the conference.
On the first day of the members' meeting, the activity report and the financial report were discussed. In May 2017, Eurordis counted 747 members (patient organizations). The organization is active in 65 countries and has more than 400 volunteers. She employs 40 people in the offices in Paris, Brussels and Barcelona. Eurordis is also active in the United Nations in New York, with the main goal of drafting a resolution on rare diseases valid in all United Nations countries.
Achieved results and future plans
In the afternoon three presentations were given each followed by a forum discussion. The panel discussion was about the future.
Building an empowered and engaged community of patient advocates. The development of websites, online tools and guides has made it possible to share information and knowledge.
Building an open and respected movement of patient organizations and advocates. Within each European country, the number of patient organizations has grown both in terms of diseases and countries and across borders. An important development is the start of European Reference Networks (ERNs) as of March 2017.
Building a strong European and international advocacy voice and agenda to achieve goals. A summary was given of the achieved results, such as the regulation of orphan drugs and the national rare diseases plans by country.
A concrete example of the transfer of information indicated that this should take into account the local culture of a country. The distribution of folders for example in Cameroon does not work. People in this country are more used to convey information with the help of expression, such as dance. Another problem is the fact that we are getting older. What are the consequences for someone with a rare disease when getting older?
The presentations of these lectures can be found on the Eurordis website(EMM 2017 Plenary)
Galadiner with dance show
On the first evening a gala dinner was organized to celebrate the 20th anniversary of Eurordis. During this evening, children in local costumes danced in a beautiful dance show.
Workshops
On the second day of the conference there were four workshops that lasted the whole day. Jacob participated in the workshop 'survival kit for small organizations' and Lex at 'European Reference Networks hopes & dreams: let's make it happen!'
Survival kit for small organisations
Several speakers gave their vision of the well-being of small patient organizations in this workshop and came up with good and practical tips on important matters about the management and, above all, the expansion of a small organization. It is important to have a vision about the mission of a small patient organization and to answer the question of how to achieve it. If the conclusion is that the primary objective -the patient should be central to ALL considerations- can no longer be achieved, then a restart may even be necessary.
Motivation
An important task is how members and volunteers can be motivated to contribute. The short, medium and long term need to be considered to monitor whether expectations are met. It's not just money but also the time and effort that are needed to achieve these goals. Examples are: organizing a contest to create a new logo or illustration, writing a patient story; organizing a photo competition, etc. It is especially important to make it clear to the participants that their efforts are greatly appreciated. This means, for example, in addition to giving a (small) price, one should mention their names when talking/writing about the activities they organised/contributed to.
Activities
It might come in handy to ask students for specific jobs. This is not only useful for the association but also for the student or volunteer who can be proud of doing this and it is good for his / her curriculum vitae!
In addition, one can organize own group activities, for example, giving a parent / patient presentation to family / friends / neighbours / acquaintances so that they get more understanding of the disease. Also, friends can be asked to help with activities. For example, a lawyer for special issues; a photographer or a video cameraman who can make a nice report free of charge.
Goodwill
The last two presentations of the workshop were given by Oliver Timmis of the AKU Society of the U.K. And Claas Röhl from NeuroFibromatose (NF) Children from Austria. Both started a few years ago. Oliver Timmis was greatly helped by a five-year European grant (!), allowing him to hire qualified staff. Claas Röhl even quit his good job, lived the first year from own capital and started acquiring sponsors. A major broadcast on NF's disease has generated lots of goodwill and has delivered many long-term donors (including companies).
European Reference Networks (ERN's) hopes & dreams: let's make it happen!
ERN's are networks of expertise centers, (medical) healthcare providers and laboratories spread across different countries aimed at improving access to diagnosis and treatment. Within the European Commission, the ERNs are also on the agenda: European Commission ERN's
Web-based diagnostic service
Dr. Sofia Douzgou (Manchester Center for Genomic Medicine, Saint Mary's Hospital Manchester, UK) gave a presentation on the diagnosis of rare dysmorphic disorders. In 2007, a European-funded project was established to improve the diagnosis of rare dysmorphic disorders. Part of this project was to set up a Dysmorphology Diagnostic System (DDS) to enable clinicians across the EU to submit patient cases electronically for diagnosis using a secure, web-based interface hosted on specified access points (Submitting nodes) in 26 different European countries. This method of diagnosis is a welcome addition to existing diagnostic methods (such as genetic testing), especially when these do not generate results. It is especially useful for isolated areas or developing countries where no experts are present or modern genetic diagnostic methods are not available. Of course, there must be access to the DDS.
Collaboration of patient organizations with ERNs is important
Prof. Maurizio Scarpa (Coordinator of the European Reference Network for Hereditary Metabolic Diseases (MetabERN)) gave a presentation on rare metabolic diseases. He emphasized the importance of collaboration between patient organizations and MetabERN.
Finally, Dr. Luca Sangiorgi (Head of Medical Genetic Department, Rizzoli Orthopaedic Institute, Bologna, Italy) gave a presentation on rare bone diseases and the role of the 'rare bone ERN'. Check the Eurordis website for the presentations of the different lectures in this session.
CMTC-OVM will join ERNs
We as CMTC-OVM will join ERNs (overview ERN's) ERNs so that we can help and reach more patients. Probably we will join three of the 24 ERNs, namely: European Reference Network on Urogenital Disorders and Conditions, European Reference Network on Congenital Malformations and Weird intellectual disability and European Reference Network on Rare Multisystemic Vascular Diseases.
Go to the Eurordis website to find the presentations.