Rare diseases day Netherlands 2017
Rare diseases day Netherlands 2017
Report Rare diseases day Netherlands 2017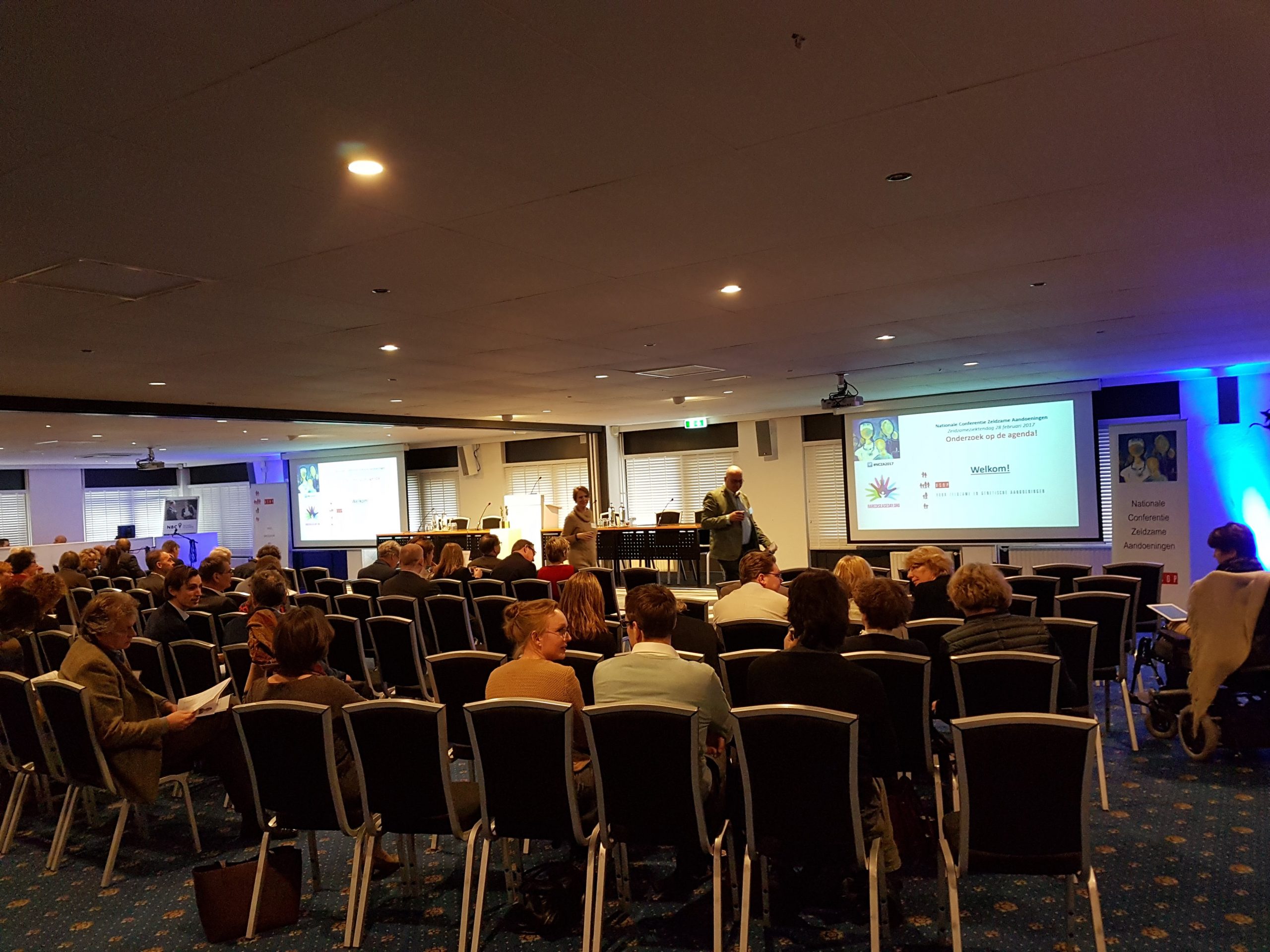 Rare Disease Day takes place on the last day of February each year.
The main objective of Rare Disease Day is to raise awareness amongst the general public and decision-makers about rare diseases and their impact on patients' lives.
28 February 2017 marked the tenth international Rare Disease Day. On and around this day hundreds of patient organisations from countries and regions all over the world held awareness-raising activities based on the theme of research. In the Netherlands, a conference was organised by VSOP (Association of Parents and patients) in Nieuwegein and CMTC-OVM was present at this event. Around 130 people from various organisations participated this year. This years theme was 'research on the agenda!'.
Prof. Dr. Marianne de Visser
Prof. Dr. Marianne de Visser (professor of neurology at Amsterdam Medical Centre) made some recommendations to the government concerning rare diseases.
A disease or disorder is defined as rare (in Europe) when it affects fewer than 1 in 2000. In the Netherlands around 1 million people (total population is 17 million) are affected by a rare disorder! About 80% of rare diseases are hereditary and 75% becomes manifest in childhood. For about 25% diagnosis is too late. There is no effective therapy for rare disorders.
De Visser also suggested that too much attention is paid to the medical domain and too little to the social domain (psycho). Unfortunately, there is too little expertise outside the centres of expertise. This includes surgeons, doctors, emergency rooms, nursing home care, education and municipalities.
She came up with the following recommendations:
Care networks around centres of excellence.
Monitoring and evaluation of health care networks.
Fund (chain) care/shared care.
Funding treatment incl. orphan medicinal products.
Uniform coding and registration of key information and follow-up.
Standards of quality care.
Research programme.
Structural input and funding patients (organizations).
Dr. Cor Oosterwijk
Dr. Cor Oosterwijk, Director VSOP, talked about 'The agenda of the patient. A feasible option?'.
In the European Union there are about 30 million people with a rare disease, 10% of those patients die. In the Netherlands, 20% of health care costs are related to rare diseases (this amounts to € 19 billion). He indicated as challenges: awareness, diagnostics, drug and therapy development, quality standards, concentration and networking, coordination and direction. The national research agenda rare disorders is as follows:
Structural 10% research budget.
Registrations.
More coherence and (early) cooperation.
Ambitious connection to European and international research policy.
Finally, the agenda of the patient: the patient in control, a workable proposition!
Prof. Dr. Pancras Hogendoorn
Prof. Dr. Pancras Hogendoorn (professor of pathology at University Leiden) presented the academic agenda.
He talked in particular about' sustainable health'.
'Sustainable health is the common goal of the eight medical centers in the Netherlands and includes the following points:
Keep people healthy at reasonable costs.
Health care must be accessible, affordable and of high quality.
Educating physicians, medical specialists and other professionals.
The most important themes that play a crucial role in the coming years in the development of a sustainable health care system are:
Health services research: risk identification, prevention and treatment.
Personalized medicine.
Regenerative medicine.
Big data and Data4lifesciences.
Large-scale research infrastructure.
Dr. Hans Schikan
Finally, Dr. Hans Shikan, biotech entrepreneur, shared with us the (bio) pharmaceutical industry agenda ' The sky is The limit, or…? ".
Shikan saw a number of challenges in the field of rare disorders (examples):
The number of patients with a specific rare condition is low.
Awareness is low.
The diagnostic options are limited.
Lack of useful animal models.
The distance from the patient to the Centre of expertise can be too long.
Examples of collaboration between patient and researcher
In the evening some people talked about inspiring examples of collaboration between patient and researcher:
AHUS: Centre of expertise and patient organisation fighting for compensation for medicine.
My IBDcoach: an application in which the patient is supported.
Fair Medicine. A new approach with the aim of significantly lowering the cost of medications.
Angel Awards
Finally, the special 'Angel awards' were handed out to the winners in the different categories: patient/physician/scientist/healthcare provider/media:
Category patient/relative: Annet Valdez & Rob Jadhav. The jury expressed great appreciation for the years of commitment of the couple for gathering more knowledge about the rare chromosome 11q deviation: their daughter Geertje was born with this condition.
Category physician/scientist/healthcare provider: Dr. Philomeen Wagner. She is a gynaecologist at Leiden University Medical Centre. She received the award for her many years of guidance of women with the MRK-syndrome and her groundbreaking research into the effects of this condition.
Category media: Humberto Tan (Dutch tv presenter, see picture). In his daily television program 'RTL Late Night' Tan regularly invited people with a rare condition. This brought the impact of having a rare condition under the attention of a wide audience.