Family Day 2019: Efteling
Family Day 2019: Efteling
A family event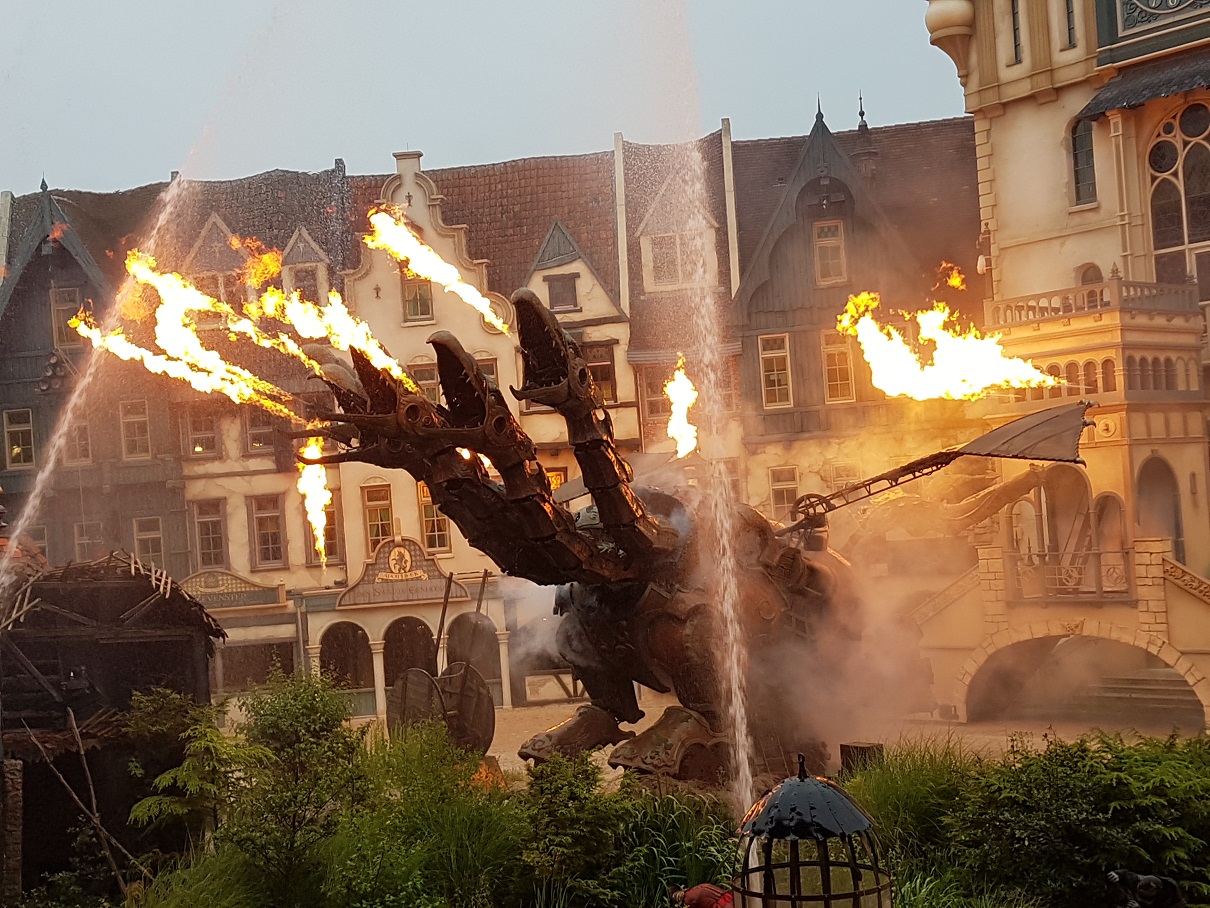 Once again we celebrated our international Family Day in the Netherlands on Saturday, the 6th of July 2019.
We started at 9 a.m. and kept celebrating until 11 p.m. Altogether, more than 80 people attended from Belgium, Germany, England, the Netherlands and Austria.
What we did: according to Thomas
It was a nice day out. We walked to Joris and the dragon. This is a very large wooden roller coaster. The ride takes you at high speed from left to right, and up and down. For me this is scarier than the Python. The Python is well organised with timers so you don't have to wait that long. After that we walked to the Flying Dutchman. And we had to wait for less than was shown on the clock (we waited 30 minutes instead of 40). It is exciting but fun. We walked to the Piraña (whitewater boat ride). And again we only waited 30 minutes instead of 45. The estimates are really conservative.
When we got out of the whitewater ride we were a little wet, but luckily not soaking wet. We still had 50 minutes and so we went on the bobsleigh. That was a bit wild and the chairs are quite hard. And then we walked to the Efteling hotel for a nice lunch with lots of delicious stuff. Then we went to Villa Volta (a revolving house). Then we walked to Raveleijn (a show with knights and horses). The dream flight had a very long line but it is worth the wait. You get into carts hanging on the ceiling. Then we went to Symbolica. You could choose from a music tour, the hero's drive or treasure tour. These are all carts controlled by a computer: very modern. Then we went into the Fata Morgana, a mirage. A boat trip through the jungle, really beautiful. Then we went back to the Python and it wasn't scary at all. And then I was persuaded by a beautiful lady to change our plans and go into the Baron. It was really very scary but was persuaded with a roll of Fruittella, so I did it. Then we walked to the light show. Was really super nice. In short, a very nice day.
Report Luna & Olivia Mark and Ilonka
We arrived on Friday at Camping Disteloo for an overnight stay in a log cabin. The weather was beautiful so we had a wonderful swim and ate at the campsite. Then on time to bed because the next day we have to get up in time for a super day in the Efteling! On Saturday morning, everyone is out of bed on time because we are looking forward to having fun! It's not busy on the highway or in the parking lot. We can park the car close to the entrance. At the entrance gate, there was already a lot of people from our group waiting. It was nice to see everyone again. After a few minutes, Lex bought the tickets we could go inside to Pinokkio's restaurant. They had a surprise there for every child: a statue of the Efteling: even fun for the older kids.
After a cup of coffee/tea and Choco Milk/Fristi with some sweets, we got instructions from Lex. Then we all had to pose for a group photo. When that was done we could go to the first attraction of the day. We wanted to go to the dream flight (after asking, of course) and because it was still not very crowded we did it twice. Olivia went for the first time in the bird ride: enjoyed it so much she went four times. After the delicious lunch, we went to the performance of Rave line. After that, we went on a couple of rides more. By 9 p.m. It was really time for us to go back to the campsite again. It was very successful again. Until next year …
Some reactions from participants
Our daughter always looks forward to the family day at the Efteling, which she enjoys tremendously. She especially enjoys the use of the "Facilities card for disabled guests". She gets on a ride through a different entrance and sees that there are several people with disabilities. In ordinary life people ofter stare at her,  and that is sometimes unpleasant. The day was for the three of us just as we had expected, well organized and with an excellent lunch. Thanks for organizing it!
Between 9 and 10 everyone was welcomed with coffee/tea and something tasty. After a short introduction and explanation by Lex, everyone could enjoy a nice day in the Efteling! The weather was wonderful: not too hot and not too cold! At 11:30 a.m. we had already visited 3 attractions!! What a wonderful feeling to be in the Efteling! At 1:00 p.m. we had an extensive lunch at the Efteling Hotel! Great service! We could enjoy all the attraction for the rest of the afternoon and evening, visiting one after another. Organization CMTC: thank you again organizing this day.
We had great weather. The kids are still happy with the plate that they got. Hopefully, next year will also be just as beautiful a day.
It was a wonderful day, the welcome and the location were great. The special passport was also very convenient. It was a great day for the kids. Thank you very much! That we can do something together with the organization is great. Nice to see everyone. The only thing I didn't like was lunch, but that's a matter of taste. Very well organized. For the next family day we would like to have a different location because it was the second year in the Efteling.
It was a nice day and the lunch was well organized. The event is the perfect opportunity to meet the members in an informal and very cosy setting, where everyone does their own thing, but we get together at the opening and lunch.
We had a great day but we're a bit saddened that we didn't spend any time together after lunch. At 6 p.m. we had to leave the park because Niklas had a temperature. We are very grateful for the great day and the opportunity to see all the other families, organizers and members again.
Family Day 2019 - English
Family Day 2019 - Dutch subtitles
Family Day 2019 - German subtitles
Family Day 2019 - French subtitles
Family Day 2019 - Spanish subtitles