CMTC-OVM Member Conference USA 2012
CMTC-OVM Member Conference USA 2012
Report CMTC-OVM Member Conference USA 2012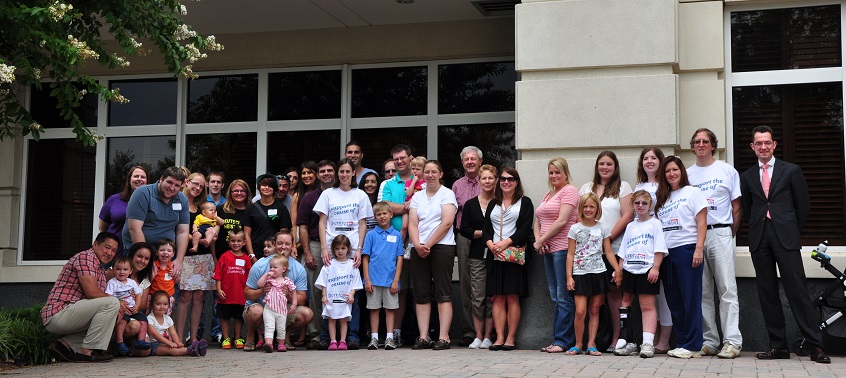 On July 14, 2012, we again attended the annual membership meeting in the USA, which was held near Washington DC.
For the first time, the meeting was organized primarily by the U.S. chapter of CMTC-OVM  with (financial) support from the Netherlands. Approximately 60 people from the USA and Canada came, some a few days earlier to see the sights in Washington DC, like the Washington Monument.
Prof. Dr. Maurice van Steensel also came to perform 15 diagnoses. Unfortunately, it appears that some physicians "just don't get it", and their efforts simply increase uncertainty among parents. Several people turned out to not to have CMTC, but another condition altogether. It is important that clarity is provided so that parents know where they stand and what steps they can take. Several parents make annual use of this diagnostic possibility to track the progress of the disease, and determine over the course of a few years, what options exist for them. An important message is that nature itself can correct much in the course of time, so it is essential not to intervene quickly (if possible).
An example of this is whether the use of laser therapy is warranted.
Becky Gallis, president of the American organization of CMTC-OVM, kicked off the meeting. It was her first time representing the organization. On one of the first slides was a photo of her friend and husband Ed, who died in March. Naturally, she became very emotional when she spoke about Ed and of course the tears flowed. It was a very touching moment. She then discussed the mission, organization, finances and cooperation with the Dutch global organization. This was followed by an explanation of the current situation of the organization, activities in 2011, finances and new initiatives shared with the Dutch global organization.
Special attention was paid to our new advisor, Professor Jan Peter Balkenende, former Prime Minister of the Netherlands and currently Professor of Governance, Institutions & Internationalisation at Erasmus University in Rotterdam (Netherlands).  He is also a partner at Ernst & Young. We are very grateful that he has agreed to support us on an ad hoc basis.
At that point, it was time for a "brainstorming session". We did this last year in the Netherlands to get our members directly involved in coming up with new ideas. We broke up into groups with each group having a topic with the aim of generating as many ideas as possible. The following topics were discussed: fundraising, marketing and brand awareness, recruiting new members and supporters, and website functionality. The results have been incorporated into a newsletter and the board will discuss them and incorporate them into concrete actions wherever possible.
Subsequently, Steve Groft addressed the group in his role as Director of the Office of Rare Diseases at the National Institutes of Health (NIH). Steve has a tremendous track record and has won many awards in many countries for his contributions in the realm of rare diseases. We are honored that he participated in our meeting, especially given his tremendously busy schedule. His session covered the globalization of research into rare diseases. Rare diseases are increasingly seen as a growth market even by the pharmaceutical industry.
Around 12:30 it was time for lunch and a chance to get to know each further.
After lunch Katie, a young lady from Canada, and our secretary Fiona took turns sharing their personal experiences with the audience. How do they cope in practice with the consequences of a rare disease? These women are an excellent example for many, and show that having a rare disease need not restrict how you lead your life. Katie has kindly given permission to publish her presentation.
Sometime in the near future, we will in fact post her presentation and personal story here.
Finally, the attendees were given the opportunity to pose diverse medical questions to Prof. Dr. Maurice van Steensel. Many questions had already been answered during private diagnoses, but there were various others which Dr. van Steensel answered in a practical manner. In conclusion, he announced a new development – in the fourth quarter of 2012 a special multidisciplinary center in the field of vascular malformations will be opened at the Maastricht Academic Hospital in the Netherlands. He is one of the professors who will be involved. Given the great uncertainty about the classification of syndromes, Dr. van Steensel presented a list along with pictures. This presentation is available in the member's section of the website.
We also now have special T-shirts, created by our graphics designer in the Netherlands. These T-shirts can be ordered through our U.S. CMTC-OVM organization in many sizes. By ordering and wearing this T-shirt you can support the American chapter financially, and we hope also to enhance the reputation of CMTC and our organization.
Perhaps we will offer the same option in the Netherlands and all countries outside the U.S.