CMTC-OVM Member Conference USA 2017
CMTC-OVM Member Conference USA 2017
Report CMTC-OVM Member Conference USA 2017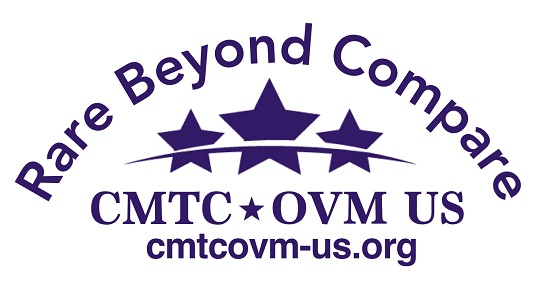 The annual conference started on Friday, July 21 with pizzas.
This time the conference was organised at the Airport Courtyard Marriott in Memphis, Tennessee.
Rebecca Gallis started by giving an overview of the organisation. Their motto is: We're all a little rare; but when we fall into mutual responsibility … We Call it a Family.
After the introduction of the members of the board, those present could introduce themselves.
The website was extensively discussed, including security measures. In addition, matters were discussed such as the medical advice team, Vascular Anomalies Clinics (VAC) per state, the brochure and much more.
Treasurer Tabatha Broussard presented the financial data. Members of the organisation can request a financial report. At the moment there are various options for fundraising, such as the color-changing t-shirts, bracelets and Amazon Smile. The costs for participating in other conferences are often covered by the organising body.
Dr. Joan Tamburro is the head dermatology specialist at the Cleveland Clinic. She is also a member of the vascular disorders clinic. This team (VAC) consists of 25-30 doctors who work together. During her educational presentation, Dr. Tamburro talked about the importance of achieving a solid foundation in health skills. Health skills are influenced by the health system, health outcomes and costs, education systems, culture and society. She believes patients and families are struggling to get the health care they need for an ultra-rare diagnosis, such as CMTC. That is why she focused on the different routes of health, because we currently do not have a specific route to guide the care of patients with CMTC, because the path of disease has not been determined. Until now, until research is conducted and evidence-based care plans are made, the care is alert to monitoring and treating the symptoms. Just like in previous years, she continued to emphasise the importance of an interdisciplinary team, such as a VAC team, because this is the place where precise healthcare for these patients takes place. Dr. Tamburro stated that it is normal that several things have been told regarding a diagnosis. This is due to the rarity of the conditions and the fact that doctors are still learning and living in different locations.
New to our team this year was Dr. Rocio Moran, the division director of Genetics and Genomics in Cleveland, Ohio. In her presentation, she talked about the complex concepts of genetics in vascular / capillary malformations. She discussed the importance of a diagnosis, not only for a family looking for answers but also for doctors. The lack of a diagnosis can lead to unattainable treatment plans, unfounded fear for family / patient and much more. Dr. Moran explained how a germline and / or somatic theory in diagnoses such as CMTC can have a huge impact. A germline cell mutation supports the idea that CMTC can ultimately be passed on to any offspring. Somatic cell mutations, recombinations and other genetic changes are not passed on to offspring. Therefore, through this understanding and the evidence of cases in which only one child diagnosed with CMTC exists in a series of identical twins, the theory that CMTC is a somatic mutation is clear. She also said that people should not be discouraged if a doctor says, "I don't know." This statement reveals transparency.
The next session was called "What's on Mind?". This is when Dr. Tamburro and Dr. Moran answered about 40 questions that were provided to us prior to the conference. There was a wide range of questions, and it was exciting to see how these two doctors brainstorm and intertwine their medical disciplines to answer these questions. These questions and answers will be made available on the website as soon as possible. This session will certainly be repeated at upcoming conferences.
After lunch, both doctors began clinical evaluations that lasted all day and they finished the last one at 10 p.m. Our medical team focuses on providing a thorough evaluation and leaves no question unanswered. Each family also received professional follow-up for counselling once they left the doctors.
Secretary Brandy Lockridge gave a presentation that was focused on working with schools. She started by defining IFSP (Individual Family Service Plan) for babies and toddlers, and Individual Training Plan for individuals aged 3 to 21 years. IDEA (Education Act for Individuals with Disabilities) is a law that provides services to children with disabilities and special needs throughout the country. It ensures that government agencies provide early intervention, special education and related services. Although both require a child to have a disability, she said there must be a negative impact on the child's academic performance or functional performance. The IEP also covers the need for specially designed instructions. Furthermore, the '504 plan' lists accommodations that a school will offer. Brandy emphasised the importance of knowing your rights and the rights of your children.
Dr. Seth Kastle gave a presentation about volunteering in the non-profit sector. Seth shared the story of his family about the uncertainty, the unknown and the relief that was generated by being part of a community such as the CMTC-OVM US organization. He further explained how we can grow together when we learn more about diagnosis and when a diagnosis changes. He went on to say that engagement makes us grow as a family or community. Seth explained that the board consists of parents who are medical professionals, accountants, teachers with different strengths. He also identified how you, as members, also have strengths that can help you benefit the organisation and ultimately yourself. Dr. Kastle shared what we need as an organisation and how we can welcome input and help from our members.
It was a pleasure to have Jenna McNair, a representative of Path International, with us this year to inform families about the benefits of therapeutic horse riding. Jenna informed everyone how this program teaches driving skills, and uses horses to make a positive contribution to the cognitive, physical, emotional and social well-being of people with special needs and limitations. She went on to say that horses do not judge. Horseback riding and working with horses encourages independence and trust. Path International was founded in 1969. Education is the foundation of this organisation.
Elisabeth Hodges discussed the extent of a healthy life through nutrition and how simple change can have a positive impact on you and your child's life. Her goal was to learn about a simple concept that can improve your quality of life and improve your blood vessels' health. Since we are often so busy, we are quick to pick up a hamburger at a fast-food restaurant; however, it is not a healthy choice, as we all know. Elisabeth introduced us to a product called Juice Plus. This is a product that can bridge the gap between what we should eat and what we actually eat. Juice Plus is mentioned in medical and scientific journals with fact-based research facts. Journals that feature them are: The Journal of Pediatrics, Skin Pharmacology and Physiology, Journal of Clinical Periodontology, Journal of Nutrition, Medicine & Science in Sports & Exercise, and many more. As time goes on, people become more aware of health.
Nursing diagnoses was the next presentation in the afternoon. Becky explained what a nursing diagnosis entails. Many people do not realise that there even is a nursing diagnosis. Whereas a medical diagnosis is made by a doctor and never by a nurse; a nurse diagnosis is from a nurse and not a doctor. A nurse diagnosis is defined as a clinical judgment about experiences of individual, family or community / responses to current or potential health problems / life processes. It provides the basis for selection of nursing interventions to achieve results for which the nurse is accountable. There were 5 nursing diagnoses related to CMTC, consisting of: Risk of Caregiver Role Strain, Disturbed Body Image, Activity Intolerance, Reduced Physical Mobility and Chronic Pain. These diagnoses described related factors, defining characteristics, actions, and interventions that a nurse would suggest and / or perform.
The last session of the day was called "What's Your Journey?". Becky shared stories of her family's journey with Ellayna. The difficulties and obstacles they faced, the challenges of dealing with the unknown, the realisation that their precious child required stimulation, bag and mask ventilation, endotracheal ventilation, cardiac compressions, and oral and tracheal aspiration at birth. She talked about living through the horror of hearing that Ellayna might not see day 2. Becky shared the list of diagnoses that Ellayna has received so far, in addition to her multiple weekly therapy sessions. After that, it was time for others to share their stories. Families were shown 4 images, a closed road / detour sign, a city road where car lighting represented a fast pace, a treacherous road on the side of a mountain overlooking a cliff, and finally a lonely road in the middle of nowhere. They were asked the question: "Which of these describes your journey?" Families shared their journey one by one. We laughed and cried together. This session quickly became a very moving, personal and emotional experience for everyone.
During all this we were lucky to have a volunteer for our nursery. We would like to thank Heather Parke for having spent her day watching over our children. Their room was filled with books, board games, colouring books with coloured pencils and markers, a large screen to watch their favorite movies and much more.