Rare diseases day Netherlands 2019
Rare diseases day Netherlands 2019
Report Rare diseases day Netherlands 2019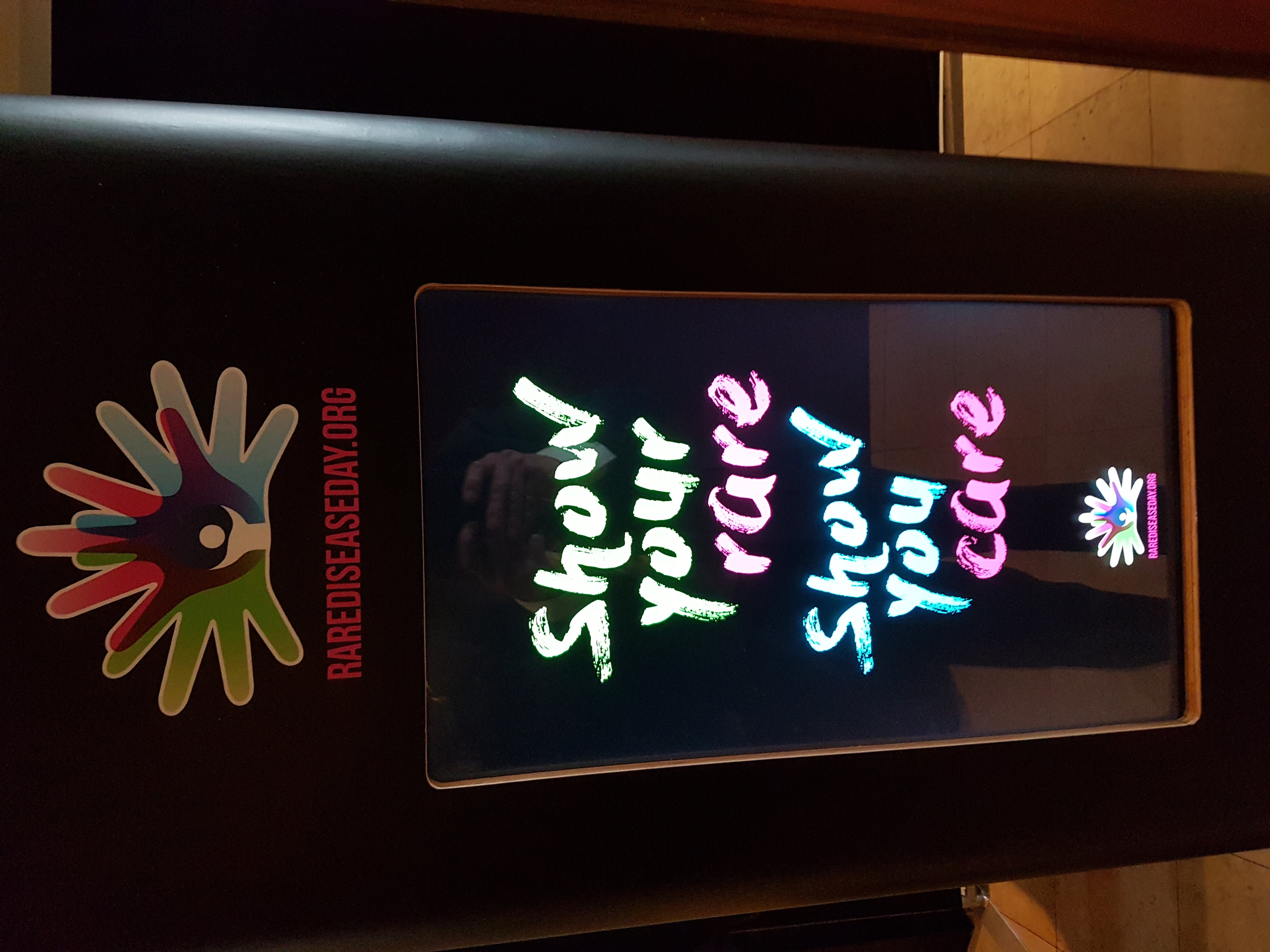 During the international Rare Disease Day, every year on the last day of February, awareness is raised for people with rare disorders.
These events take place in many countries. This way, it is hoped that rare diseases will become more publicised.
In the Netherlands, the VSOP (Association for Cooperating Parents and Patients Organization) organises the annual conference for Rare Disease Day. This year the conference took place on 28 February in Maastricht. There were around 120 international participants from many different organisations, such as patient organisations, doctors, research institutes and pharmaceutical companies. The theme of the Rare Disease Day this year was 'Rare diseases across the border: Europe and the Meuse-Rhine Euregion'.
The day started at 10:15 a.m. with a welcome presentation by Dr. Cor Oosterwijk (director of VSOP).
Share information, discuss and make recommendations on three important topics for rare diseases: awareness, undiagnosed and cross-border care, and cooperation. This in order to ensure that people with a rare disease are diagnosed more quickly, are referred to the right expertise centers, and receive the right care and guidance.
EMRaDi, Caroline Glaude (projectleader)
EMRaDi stands for Euregia Meuse-Rhine Rare Diseases. The project is a cross-border cooperation project. It includes health insurance funds, university hospitals, patient organisations and a university from the Meuse-Rhine Euroregion (EMR). EMR consists of regions in Belgium (Flemish, Walloon, German-speaking region), Germany (Aachen), the Netherlands (Limburg).
Why is coordination at European level necessary?
National policy is inefficient and ineffective.
Patient numbers are low and scattered.Treatment points are limited and distributed.
To strengthen solidarity.
This has been achieved through regulation at the political level: the Orphan Drug Regulation in, communication at European level in 2008, recommendation rare diseases in 2009, and patient rights in cross-border care in 2011.
In March 2017, 24 European References Networks (ERNs) were launched. They advise caregivers in favor of patients. The ERNs are currently active within with 900 departments in more than 300 hospitals. Up to 2018, more than 250 patients benefited directly from the ERNs.
The following initiatives are ongoing:
Revision of the orphan drug regulation.
Rare2030: thinking for European policy.
ERN: expanding and setting up ERNs.
Integrate reference centers.
Cross-border care is not only a major advantage for people who would have to travel (relatively) far in their own country for treatment, but also if certain expertise is not (rapidly) available in their own country. A concrete example is a patient in Liège. The hospital in Maastricht is half an hour away, Brussels 2 hours.
EMRaDi started in 2006 as a collaboration with three objectives:
Transparency where and which services are available.
Setting up models: How does the patient find the right way?
How can caregivers and patient associations work together across borders to help patients and their families?
Objective 1 has been investigated by collecting data, a literature study and research among patients and the reimbursement system.
For Objective 2, scenarios have been investigated for a limited number of rare disorders (starting small), which is presented as European recommendations. 8 neurological disorders have been chosen.
Experience shows that it is preferable to:
Cross-border (own country is preferred, because of reimbursements).
Pay attention to the place of treatment (the Netherlands has more centralised care, Belgium has several centres).
Pay attention to coordination (the patient usually becomes the expert).
Pay attention to the costs for the patient.
Objective 3 indicates the recommendations:
During the project:
Increase awareness.
Make an inventory of the needs by listening to patients, families and professionals.
Build and improve networks with clinicians and general practitioners.
Reach a large amount of people and improve their quality of life.
After the project:
Make sure that you are at the forefront of European developments.
Create the possibility of new sources of funding in research and innovation.
Be a model for rare diseases.
Reduce health costs.
Sigrid Hendriks (VSOP)
First and foremost it was yet again considered when a disease is rare. A condition is called "rare" if it affects less than 1 in 2,000 people. However, rare diseases are anything but rare, because there are around 7,000 rare diseases.
In the Netherlands there are more than 1 million people who live with a rare condition. In three-quarters of the cases, the condition manifests itself during childhood. Of all rare disorders, 80% are genetic and hereditary.
Sigrid Hendriks, policy officer of the VSOP, umbrella organisation for associations of parents and patients with rare diseases, therefore gave a presentation about the importance of awareness during the EMR Rare Disease Day.
"Suppose you want to buy a car," she told the audience. "You come across a model that you have not seen before and decide to buy this special car. But as soon as you drive your new vehicle, you suddenly see the car on the road much more often.
And so it is with rare diseases. "The statement by Johan Cruijff is more than appropriate here: "you will only see it when you realise it."
Sigrid Hendriks said that in the area of rare disorders there is still much to be gained in terms of visibility, familiarity and alertness.
"Doctors, in particular, need to be better acquainted with rare conditions. This with a view to early detection and the correct guidance, treatment and referral of patients.
Through events – such as the Rare Disease Day – publications and publicity, the VSOP contributes to increasing awareness in society," she then explained about the role of the VSOP.
During her presentation, Sigrid Hendriks took the audience along a number of great examples of campaigns that contribute to greater awareness of certain rare disorders. Especially ALS (Amyotrophic Lateral Sclerosis, a disease of the nerve cells that control the muscles) has received much attention in this way in recent years.
Consider, for example, the "ALS Ice Bucket Challenge", where people all over the world threw ice water over each other and shared it via social media. Or the ALS City Swim, where participants swim two kilometers through the Amsterdam canals to raise awareness for the disease. And then you have probably seen the billboards with a photo of an ALS patient, and the text "I have since died."
But because there are more than 7,000 different rare disorders, it is very difficult to request publicity for each disorder separately, Hendriks also emphasised well.
Jean Muris General Practitioner (HAG Maastricht)
Jean advocates for longer consultation time. A doctor has 10 minutes to make a diagnosis. In the Netherlands (different from Belgium), you get access to health care (hospital) through your doctor.
General practitioners register the patient's symptoms via a code system, which gives a registration. These used to be green cards, but now RNH (Registration of General Practitioner Practices). It's complicated. Orphanet codes 31 000 indicate whether the condition is rare.
Jean Muris has investigated 18 general practices, and found that rare disorders are missed (see changing image in the diagram image). Some doctors do not ask enough or are not thorough enough (note down developmental delay, but do not ask which).
If it is known which disorder a patient is dealing with, they will receive information from thuisarts.nl. There should be a section about the condition on the website.
Els Vergouwen
Els gives a lecture about her son with Kabuki. The complicated care path, the diagnosis, the course of his illness, starting a patient association.
Simon Kleijkers
Simon is a general practitioner and is part of the 'Witte Raven' general practitioner initiative.
In the Netherlands, the 1st line care is the general practitioner, approachable, 2nd line is the hospital, 3rd line is an expertise center.
There are approx. 10,000 GPs employed, 40% of whom work in a group practice, 40% in a shared practice with two GPs and 20% work alone.
A doctor has an average of 2100 patients. 100-150 of these have a rare condition. Diagnosis is difficult, as the general practioners' expertise in the field of rare disorders is limited. Yet the doctor is the most consulted care provider, often knows the whole family, has a good conversation technique and a holistic view (other than a specialist). When the GP refers a patient, they should indicate if they suspect a rare condition, because then the specialist may be more alert. His gut feeling can be an important indication. Gut feeling is coded as ALSO (inexpressible inexplicable complaint). Witte Raven is looking for the cause of ALSO.
Connie Stumpel, clinical geneticist (MUMC)
Should we continue to look for solutions in unresolved rare diseases? YES
For the patient's future perspective.
For the care provider's future perspective.
Better healthcare through a correct diagnosis.
Better genetic guidance.
There are many developments in medical research / genetic research. New information can lead to better patient guidance. Not every rare disorder has a genetic cause (80%), it can also arise from infection.
How to proceed?
Awareness!
Information for students and colleagues.
Creating platforms for patients and professionals (VSOP with ZON "disease unknown", Witte Raven, UMCs EMRaDi, ERNs).
Conclusion:
Be careful.
Do not give up.
Learn from each other.
Care share cure!
Matthew Bolz-Johnson (Eurordis)
Role of the ERNs:
Increase cross border patient flows.
Implementation of the CBI-IC administration.
Declaration of costs must be simplified.
Information campaign about NCPs (National Contract Points) and patients' rights.
Investments and development should be made in the NCPs with the aim of increasing access and visibility.
ERNs are seen as the EU flagship initiative.
ERN's vision is that the knowledge travels and not the patient!
Prof. dr. Nicoline Hoogerbrugge (ERN GENTURIS/Radboud UMC)
ERN Genturis:
Overview of where expertise can be found in Europe.
Medical experts following the latest European guidelines.
Patient information in their own language.
Possibility to participate in research to improve healthcare in the future.
Current situation:
Many patients have not yet been identified.
Large variation in clinical outcome measures that result in deteriorated prognosis and unnecessary costs.
Guidelines are missing and have not been properly implemented.
Virtually no patient registration and biobanks.
Limited research programs.
Fragmented patient empowerment activities.
Prof. dr. René Westhovens (UZ Leuven)
The rare diseases plan for Belgium is funded by the King Baudouin Foundation.
One of the topics he shared with us were concerns about the implementation of the rare diseases networks.
To date, there have been no conflicts at the first network meetings. The first focus is on disorders of which there are experts who are also involved in the ERNs. There is very good participation of patient representatives. It is important not to lobby but to participate in terms of content. The importance of a chairperson is to monitor the general lines.
Challenges: level of registration / interaction between registers of multi-organ disorders / involving ERN exceeding 1st line / other health professionals. Furthermore, this implementation is current volunteer work! Only hospital functions rare diseases have a paid coordinator.
Panel discussion
There was room for discussion in the afternoon program. So-called "round table discussions" were held with congress participants from all ranks:  care professionals, patients and patient organisations could exchange ideas with each other about the themes of awareness, undiagnosed and cross-border healthcare and cooperation.
There was also talk about the huge number of people walking around with vague symptoms and sometimes only after years or perhaps never being told that they have a rare disease.
In the end, various solutions were proposed. One of the solutions to gain more "awareness" – and thus to advocate for the many undiagnosed ones – would be to have the medical professional organisations include special training on rare diseases in their training program. The VSOP has made this training and has started the lobby for this.
The ideal situation for the future: a consultation takes place with patient – doctor – expert.
What emerged from the panel discussion:
"Be angry together" (emotion to engage in activity).
Better regulation with regard to reimbursements.
Platforms for patients and professionals in healthcare institutions.