Royal decoration for Lex van der Heijden
Royal decoration for Lex van der Heijden
Officer in the Order van Oranje-Nassau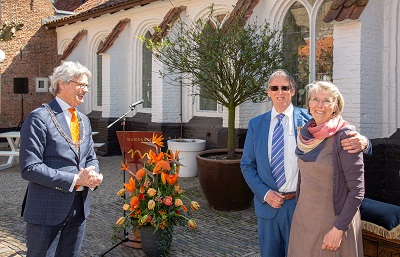 The day before King's Day in the Netherlands, it is the tradition to reward volunteers with a royal decoration. To his surprise, our chairman, Lex van der Heijden, was appointed Officer in the Order of Oranje-Nassau.
The Order of Oranje-Nassau exists since April 4, 1892. Persons appointed as Officers often have a national or even international appearance or significance due to their special merits.
The board has spent more than a year working on the application, which is mainly based on letters of recommendation. In total, more than 10 letters of recommendation were received from patients, parents of patients from various countries (especially Europe and the USA), professors, IBM, and a former Dutch Prime Minister.
Lex was together with his wife, Marjolein van Kessel, in Amersfoort for the presentation by Mayor Bolsius.
Lex is proud to have received this award and indicates that it is not about him but about the cause he stands for. "Hopefully through this decoration we can reach and help more people with rare diseases, especially vascular malformations because this is what ultimately matters."