CMTC-OVM Member Conference Canada 2017
CMTC-OVM Member Conference Canada 2017
Report CMTC-OVM Member Conference Canada 2017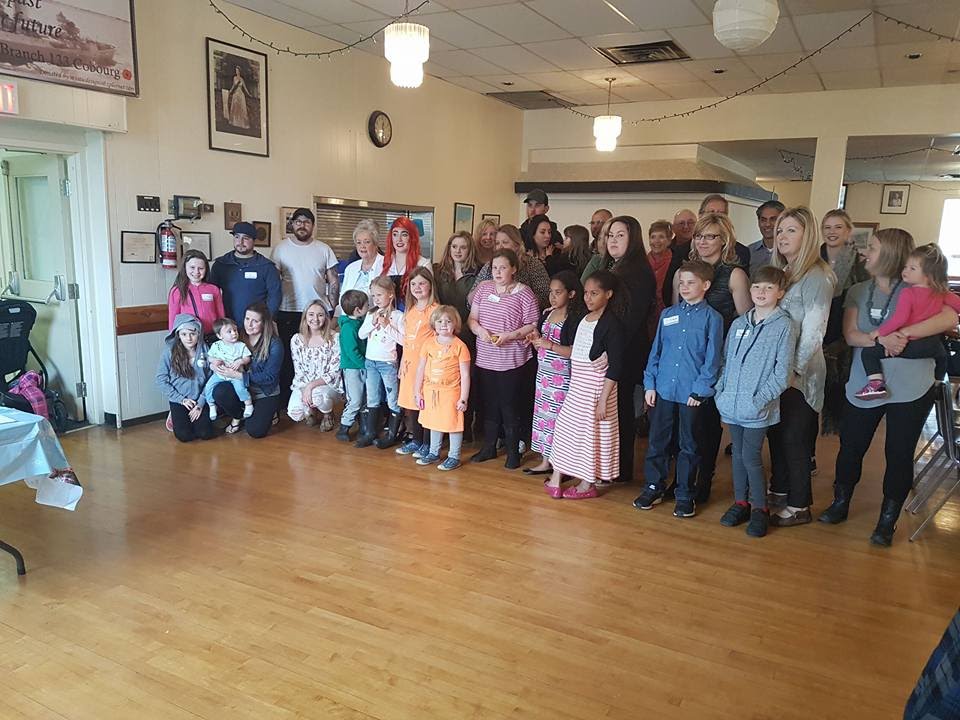 On Saturday, May 6, 2017, the Canadian CMTC-OVM organization held its second member's meeting.
Eleven families visited this meeting in the town of Cobourg.
As was the case at the meetings in the Netherlands and the USA, there was the possibility of making a medical diagnosis. Dr. Millan Patel performed these diagnoses.  A separate room with entertainment for the children was arranged so the parents could attend the conference.
From the Netherlands, Isa Veldhuizen and Lex van der Heijden participated in this conference. Isa shared her personal experiences with several parents. Lex gave three presentations and then led the workshop 'share your story'. Several parents shared their personal experiences.
Jennifer Cormiers daughter
Jennifer Cormier, President CMTC-OVM Canada, opened the conference. She started with the famous poem 'welcome to Holland'. Then she presented the board members and told that Prof. dr. Arnold Oranje had died. Last year he was still present to conduct diagnoses and to give a lecture.
Cormier briefly describes CMTC and shares her story about CMTC with her daughter Ireland. The doctors did not know what was going on and brought it in connection with childbirth. Reactions of people who met her daughter were: "It will pass", "it's your first child and you are probably overreacting." During the CMTC diagnosis in Canada, it was said that it was better to go home and spend as much time as possible with her daughter. This felt like a slap in the face. Via Lex, Jennifer came into contact with Prof. dr. Oranje and two weeks later the diagnosis was finally made.
Ireland could not walk yet when she was 18 months old. This was due to too low muscle tension. At school there was the problem that she could not join gymnastics. The soap in school turned out to be bad for her skin (CMTC patients may have a thin skin) so she now uses her own soap at school. Ireland often fell very ill and the classroom appeared to be at the joint water source at school. She is now taking her own water to school. The first annoying remarks about her CMTC-markings have already been made.
Jennifer thanks all sponsors and points out the existence of shirts and mugs that can be ordered from the webshop.
CMTC an overview
Lecture by Dr Millan Patel (Medical Geneticist at PC Children's Hospital Vancouver, Canada)
Resilience (Debbie Cockerton)
Debbie is a child behavioural therapist, gave a lecture about resiliency. How do you build in resiliency in children? It is important to build in the 'Circle of Courage': this consists of 4 components: belonging, mastery of skills, independence and generosity. 'Belonging' means that the child has someone he/she can rely on, whom he/she trusts and who listens to him/her. 'Mastery of skills' means that the child believes in the skills that it has (I know I can do it). 'Independence' means that the child is able to make decisions on its own (in real life you eventually also have to take decisions on your own). Generosity means that the child learns that doing things for other people can give them a good feeling.
Cockerton: "Be aware that children copy you. So show them how to be resilient in the right way. Train their brain to deal with difficult/stressful situations. (Also read the lecture she gave at the first meeting of the Canadian CMTC-OVM about bullying).
Dutch CMTC-OVM organisation (Lex van der Heijden)
Lex started his talk about the foundation of the CMTC organization in 1997 after the birth of his daughter. Using a photo and a brief description, he tells about the symptoms of CMTC (see the CMTC website for more information on this). CMTC is especially visible if the patient is cold.
The association receives many questions, some of these questions are about the use of laser for CMTC-markings. Lex refers to the article about this topic that has been written by Prof. Dr. Arnold Oranje (It can be found on the website: Laser treatment). In summary, the effect of laser on the markings gives the best results in the face and the more down to the feet, the worse the result. Small children have to be anaesthetized for the treatment and this is not recommended.
Lex also describes the emergence of different organizations (Canada and USA). Lex started in the USA in 2005, and as the number of people grew, it was decided to set up an independent organization. Nancy and Hank Fowler and Lex originally founded this organization. Jennifer has started the organization in Canada. Members of the U.S. and Canadian organizations have free access to the Dutch website, available in both English and Dutch.
The Dutch organization has started a number of years ago with the genetic research into the cause of CMTC. This has been delayed by various causes, but it is expected that the research will continue in the third quarter of 2017. The research is conducted in Canada by Dr. Millan Patel.
A brand new website is in development that is responsive to different devices either desktop/smartphone or tablet. Lex showed some pictures of the new design.
The Netherlands is working on a new system in which the patient has all the medical information available (general practitioner, hospital, etc.) in which the patient is in charge and thus determines who has access to his / her medical data. In particular, in patients with rare diseases, medical data is often spread over many sources and it is extremely difficult to get and keep an overview. This data is available 24 hours a day from virtually any location.
For this occasion, Lex had composed a typical Dutch package consisting of a canvas bag with Dutch stroop waffles and chocolate for all families. In addition, Lex had taken a great deal of Dutch clogs in the form of soft slippers. The responses of the attendants were very good and they were surprised.
Jennifer had compiled a beautiful folder containing good and practical information about bullying at schools. The Canadian Red Cross has very interesting information on this subject.
Presentations (members only)
Videos (members only)