Eurordis 2005 – Luxembourg
Eurordis 2005 – Luxembourg
Report Eurordis 2005 – Luxembourg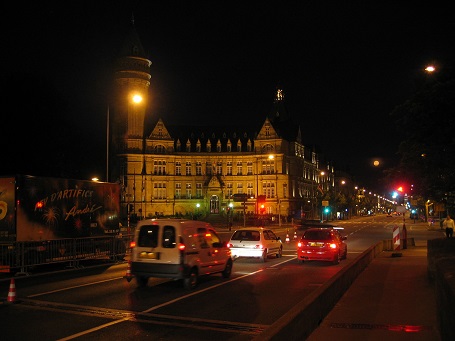 On 21 and 22 June 2005 a major international conference in the field of rare diseases was held in Luxembourg.
The conference was organized by the European Organization for Rare Diseases (Eurordis) and various partners and supported by the European Commission, the Government of Luxembourg and the French organization against neuro-muscular diseases (AFM).
On behalf of our association, Lex van der Heijden participated in this conference. After a drive of about five hours, Lex came to the hotel in the center of Luxembourg at the end of the afternoon of 20 June. The conference was held at the Chamber of Commerce in Luxembourg city.
The conference theme was "from Difficulties to solutions for the rare disease community". The opening was presided over by the president of Eurordis Terkel Andersen in the presence of – among others – the Grand Duchess of Luxembourg and representatives of the Luxembourg Government. Luxembourg is a small country but with great wealth in terms of history, culture and even financially. It is the richest country in the European Union, and it is not a republic but a Grand Duchy.
One of the conference goals was to bring together patients, researchers, health professionals (such as doctors), policy makers and industry.
The program is designed to address current problems, propose possible solutions and to improve the situation of people with rare diseases.
Approximately 30 million people in the European Union have some form of rare disease (about eight percent). In several countries within the European Union the topic of 'rare diseases' has even wound up on the political agenda. In France, it appears to have made significant progress. In the Netherlands, there has not been much progress especially within "Fonds PGO" (Funds for patient, handicapped, and seniors organizations) where rare diseases as not viewed as a special category but in fact where all diseases are combined together.
The presentations were in English and were simultaneously translated into French, German, Polish and Spanish. Fortunately more and more Europeans have a good working knowledge of English, so you can communicate with practically everyone fairly well.
All presentations were videotaped and can be viewed via the Internet.
For our organization, the conference was an introduction to the European circuit of rare diseases. Experience shows that it's unrealistic to expect much from these conferences over the short term. Building networks often takes years.