Members conference 2023 Information and Registration
The agenda of and registration for our global members conference in the Netherlands
On Saturday October 28 and Sunday October 29, 2023 we will organize our annual worldwide member's conference in the Netherlands.
Our guests can already get to know each other on Friday evening 27 October during a drink, with all kinds of Dutch snacks, from 8 pm. The program contains interesting parallel sessions on a variety of subjects.
This year we will organize a 'hybrid' conference again. This means that members can choose to participate online/virtual or be present in-person at our location in the Netherlands.
On October 26 and 27, we will also organize a training for our Patient Advocates from various countries such as Canada, England, Greece, USA, South-Africa and Sweden. The costs of this training, including travel and accommodation costs, are covered by our organization.
On Saturday evening we will organize a dinner buffet for all participants!
This year there will also be a number of activities on Sunday.
Program (concept)
Friday 27 October
20:00 – 22:00 – Welcome with snacks and drinks (bar ISWV)
Saturday 28 October
m1 = Main room session 1, etc.
p1 =  parallel session 1, etc.
Time
Speaker(s)
Subject
08:30 – 09:00
Reception and registration
09:00 – 09:45 (h1)
Getting to know each other (adults)
09:00 – 09:45 (p1)
Geeting to know each other (young adults)
09:45 – 10:45 (h1)
Dr. Bibi Montfrans (NL)
Vascular malformations: characteristics, possible complications and medication
10:45 – 11:15
–
Break with 'vlaai'
11:15 – 12:15 (h1)
09:45 – 12:15 (p1)
Young adults activities (inside and/or outside)
12:15 – 13:00 (h1)
Parents with children (0-10 years) – Dutch
12:15 – 13:00 (p1)
Tessa Schiethart, MSc (NL)
Seen and being seen – English
12:15 – 13:00 (p2)
Physics and chemistry experiments
13:00 – 14:00
–
Lunch
14:00 – 15:30 (p1)
Jong!Pit
Young adults
14:00 – 15:00 (h1)
Edith Raap, MSc (NL)

Minke Verdonk

Living loss
15:00 – 15:45 (h1)
Lex van der Heijden
Members meeting
15:45 – 16:00
–
Short break
16:00 – 17:00 (h1)
Tessa Schiethart, MSc (NL)
een and being seen – Dutch
17:00 – 17:15 (h1)
Summary
17:15 – 18:15
Break with fresh 'stroopwafels' main entrance outside
18:15 – 21:00
–
Dinner
21:00 – …
–
Chat
Sunday 30 October
Several members have indicated that they also want to participate in activities on Sunday.
Around 9:00 hrs breakfast, informal gathering and site-seeing. Lunch 12:00 hrs.
Living loss
We are organizing a 'living loss' session, but what exactly is this?
"Living loss" refers to the ongoing emotional pain and grief experienced by individuals who have a loved one with a chronic or severe medical condition, disability, or mental health issue. This concept highlights that the loss experienced by the family or caregivers is not confined to the death of the person but extends throughout the person's life due to the challenges and changes brought about by their condition.
Living with someone who has a long-term or debilitating condition can be emotionally and physically draining. The sense of loss may arise from the changed expectations for the future, the loss of the person they once knew before the illness or disability, and the constant adjustments that need to be made to accommodate the person's needs. Caregivers may experience grief, frustration, sadness, and a range of other emotions as they navigate the complexities of providing care and support.
Recognizing and understanding the concept of "living loss" is important as it validates the emotional struggles of caregivers and family members. It emphasizes the need for support and resources to help them cope with the ongoing challenges they face while caring for their loved one.
Register for this event
Personal medical advice
Previously, people could get free personal medical advice during our conference. This option is not available anymore for several reasons. An important reason is that we wanted to improve the quality of personal medical advice even further and also want to provide sustainable care. Sustainable care means that especially patients from abroad receive better care in their own country because the local doctor can be well informed by the multidisciplinary medical team in the Netherlands.
Within Europe, there are centers of expertise in the field of vascular malformations in many countries, so patients can often consult medical specialists in their own country and in their own language.
European Reference Networks (ERN's)
Finding an expertise center and a local patient organisation (regarding vascular malformations) is possible via a smartphone App
Outside Europe or in European countries where no expertise centers are active, it is possible to make use of expertise centers in the Netherlands.
Via the International Society for the Study of Vascular Anomalies (ISSVA) it is possible to search for a multidisciplinary team or medical specialist per country.
Conference location
Landgoed ISVW
Dodeweg 8
3832 RD Leusden
The Netherlands
Comfort hotel rooms are also available at this location, for which we have negotiated a special price of € 102 per night per comfort room. This includes breakfast. These rooms are intended for a maximum of two adults and possibly a child up to and including 2 years old (baby bed). Baby beds are not available in the hotel.
A suite is a more spacious room where an extra bed can be placed. The suite costs € 132.00 per night for two people (including breakfast). An extra bed costs € 25.00 per night (incl. breakfast). Breakfast for children between 4 and 16 costs € 8.25 per person per day.
Local tourist tax is added to these prices.
The hotel room must be reserved and paid for by the user. Costs for no-shows will be charged to the person who requested the reservation.
Travel by car is rather easy using navigation. Parking is free.
Travel by plane should be arranged where Schiphol Airport Amsterdam is the best location. Take the train to Amersfoort (direct connection). You need to buy tickets before entering the train. The train platforms are located below the arrivals area and you buy your train ticket at the blue and yellow machines near the entrance to the platforms.
When you leave the train station in Amersfoort you can see on the right side the bus stops. On the screens above the bus area, you can see the bus number (you should use number 19) and when the bus will depart (Mo-Fr from 7:18 – 18:43 twice an hour, approx. 22 minutes). You can also get a taxi of course (approx. 9 minutes).
Chair massage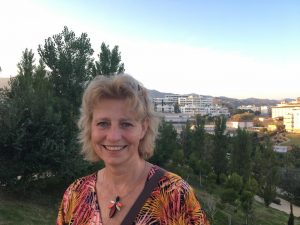 During previous members' conferences we have been able to offer free massages that not only had a relaxing effect but even provided pain relief for patients. Belinda Toes is the one offering the chair massages this year.
This year we offer chair massages. During registration upon entering the conference center you can simultaneously sign up for a chair massage.
Creative event
Again we are organizing an extensive children's event for children of practically all ages! We have a separate room with guidance and all kinds of entertainment for them. The tinkering turns out to be a great success for almost all ages, where 16-year-olds (and parents and grandparents) also have a lot of fun! The kids don't go home empty-handed!
Young adults event
This year we are also organizing a young adults event (approx. 13 – 25 years). An activity is organized both in the morning and in the afternoon. In any case, bring outdoor clothing and sturdy shoes!
Interviews
We would like to include a whole series of interviews during our conference with people with vascular malformations and their family members. These videos are not only intended to help others but also yourself.
Attention
In view of the costs of our conference, we ask our participants aged 18 and older for a contribution of € 10 per person who participates in the dinner. This does not apply to speakers and volunteers.