CMTC-OVM Member Conference Netherlands 2009
CMTC-OVM Member Conference Netherlands 2009
Report CMTC-OVM Member Conference Netherlands 2009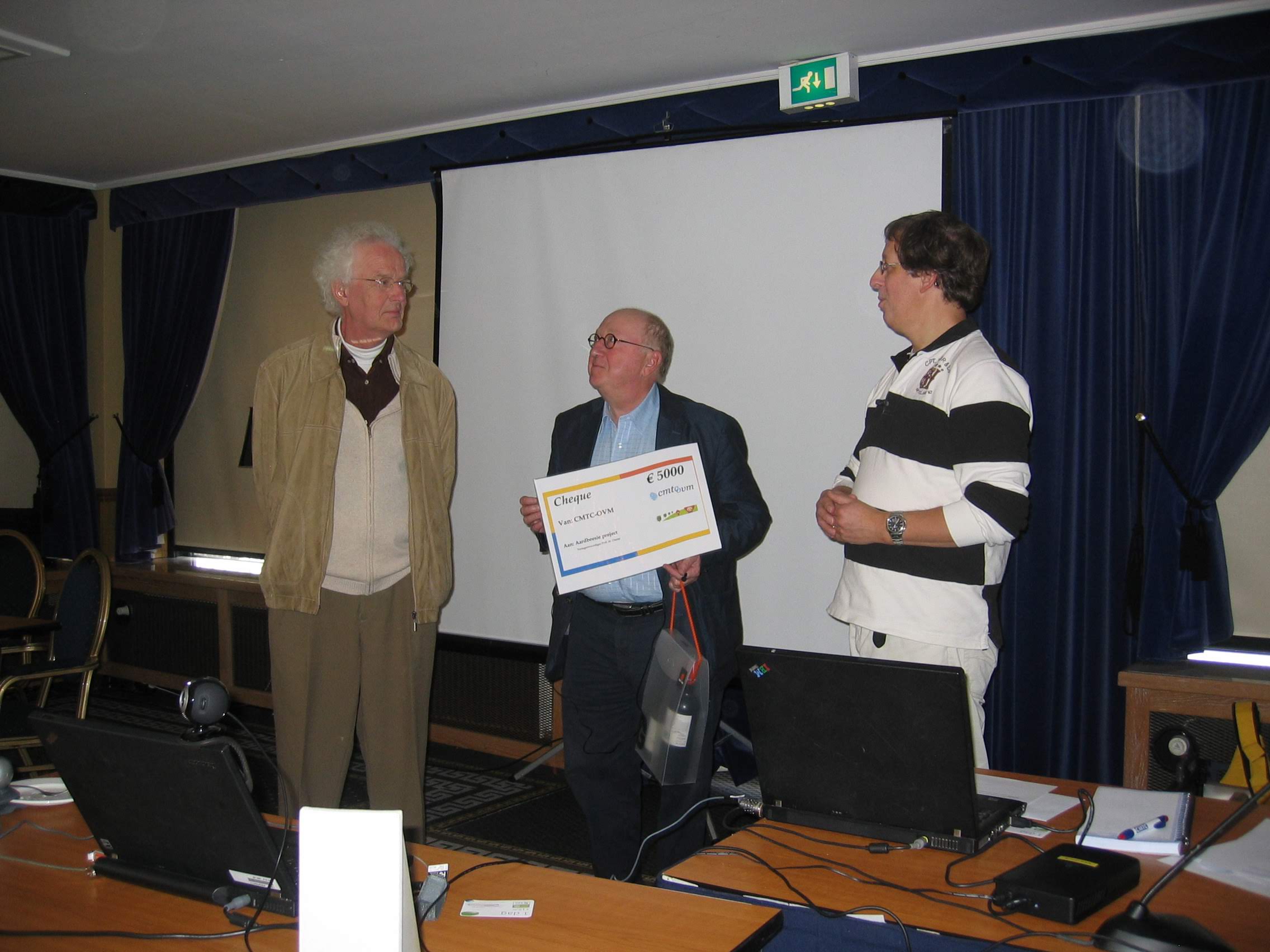 On October 31st, it was time for the annual CMTC-OVM meeting at a hotel/conference center in Leusden in the Netherlands.
After many hours of preparation, we started at 8:00 AM with the construction of the two booths. The conference itself was held in the large hall, while things were set up to keep the kids entertained in the smaller room.
There were approximately 40 adults and 18 children (from infants to those 16 years old) in attendance. Several new members were present, several of whom had only been members for a few days.
The children and the parents were welcomed by a Clini clown!
In the hall there were 10 different types of fresh Limburg pies. which disappeared quickly.
For the first time, two families from Germany attended. Both made use of the private diagnostic capability by Doctor Oranje. One member from Belgium also saw Doctor Oranje.
After the formal part of the meeting was concluded by Lex van der Heijden, Doctor Oranje gave a presentation on the developments around CMTC.
Doctor Oranje characterized CMTC as neither tumor nor vascular malformation, but something in between. Furthermore, CMTC may diminish somewhat over time but does not disappear completely. The most commonly observed abnormality in CMTC is corporal asymmetry.
The most important conclusion is that CMTC is a mixed vascular malformation.
The presentation can be found on our website in the members section.
Propranolol, an old beta-blocker, was discovered by chance as an option for the treatment of hemangiomas. However, there are many uncertainties regarding the safety and monitoring of this therapy. The most serious side effects are bradycardia and hypotension. Infants with large hemangiomas or 'miliary hemangiomatosis' are at risk of cardiac output problems. Also, propranolol may mask hypoglycemia in these patients, which can lead to severe neurological side effects. Generally in the Netherlands and elsewhere there are various therapies – protocols. In Rotterdam we remain conservative and established as safe a programme as possible. Our maximum dose is two mg/kg per day, as suggested by Siegfried, et al.
The presentation was broadcast live over the Internet (audio and video). Members from around the world then interacted with the people in the conference hall. One of our American members took the opportunity to ask a question.
We also video-recorded the presentation and forum of Doctor Oranje. The video is available through our website (restricted area). It is important to note that both the presentation and the forum are also available in English because all questions, etc. were repeated in English.
The lunch buffet was extensive and was appreciated by both adults and children. The new members were especially enthusiastic.
After lunch Doctors Oranje and van Steensel jointly conducted a forum. Unfortunately, Doctor van der Schaar was absent, as he was required to remain abroad. The forum was also broadcast over the internet, allowing members from around the world to ask questions.
We had a special guest in our midst: Wali van Lohuizen! He is a cousin to Dr. Cato van Lohuizen who in 1922 became the first to present a scientific characterization of what is now known as "van Lohuizen syndrome".
Doctor Oranje of the pediatric dermatology unit at Sophia Children's Hospital in Rotterdam is the project leader of project 'Aardbeesie' (Strawberry). The project concerns the number of children that have large or disfiguring hemangiomas. The website www.aardbeesie.nl provides information about the project (Dutch language only).
They are trying to determine what causes the onset of hemangioma and thus construct a more rational therapy, and ultimately better and more effective treatment. Research is being conducted into factors that explain why one hemangioma responds to treatment and another does not. In this way, we can judge the therapeutic effect of a treatment. The intensity of treatment is also under consideration.
Tissues can now be examined and compared thanks to the implementation of a tissue bank.
Since hemangiomas consist of tangled blood vessels and CMTC is a vascular disorder, we hope the study will benefit us as well. Consequently, we made a donation of € 5000 (~ $7500) to the project, which came as a big surprise to Doctor Oranje.
For the children we had again a separate room arranged with morning a clown and an afternoon workshop with felt. For very small children was a large number of toys available and for the big kids had drawn back the Wii with a large projection screen.
After lunch the children were guided to work with felt. The kids had a great time again next year and we hope to welcome more children.
Here are some reactions from members who attended the meeting:
"It was an instructive meeting full of useful tips. The question time was well spent in my opinion. This is understandable because when you are visiting a doctor you're time-constrained and you often feel embarrassed. The next day I spoke with several mothers and they had a similar experience. "
"For us it was a good day. The babysitting was fantastic! The physician's portion was also great, especially Maurice who explained everything very clearly."
"For me, personally (partial) attendance of the CMTC meeting was very useful: I could ask my questions and get clear answers, meet parents and exchange information, and hear ideas about how to get further support for our 14-year-old daughter. I also found it very informative and fun to talk a while with other patients. During the forum, I noticed that people were hesitant to step up to the microphone and ask their questions. A number of the attendees didn't take advantage of that opportunity. "
"The question time was very meaningful. It went to the heart of information exchange between doctors and members of the association."