EADV 2022 – Milan
EADV 2022 – Milan
Report EADV 2022 – Milan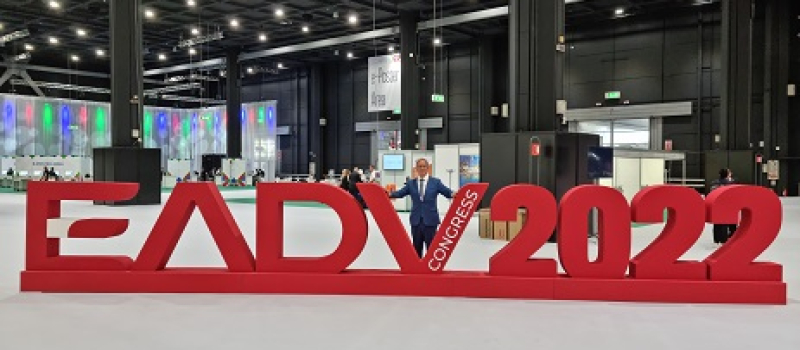 From 7 to 10 September 2022, the European Academy of Dermatology and Venereology (EADV) conference was again organized in Milan. The number of participants was 14,000 from over 120 countries around the world and 600+ speakers in 170 different sessions.
Booth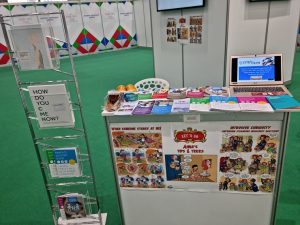 Our organization had a stand together with Naevus Global during this conference. For example, we developed the parent support guide together with Naevus Global.
The organization had decided that patient organizations would have a time slot in a corner of a very large hall in the basement of the conference center. First of all, the space was very limited (about half a square meter to put down our material, but the basement location was visible from the higher layers, but was absolutely not on the route from the participants to the halls. We have this was also lodged as a complaint with a Dutch member of the EADV board.
Fortunately, participants were able to find us. We have been visited by various doctors from Egypt, Georgia and India, among others.
Doctors from Georgia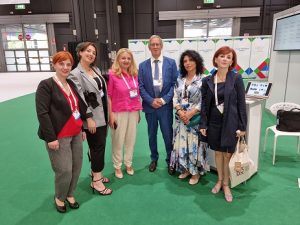 Given previous experience during conferences with our 'parent support guides' leaflets, we had brought extra copies and prepared a sign-up list in case the leaflets ran out so that people could reorder. After more than a day, the number of folders was almost gone.
There is now also a separate form on our website with which all kinds of information material can be requested.
EADV Policy Roundtable: Addressing the Burden of Skin Disease in Europe through Policies and Partnerships
Prof. Myrto Trakatelli, Advocacy Working Group Chair, and Prof. Alexander Stratigos, Immediate Past President, de EADV would like top share the report of the Policy Roundtable 'Addressing the Burden of Skin Disease in Europe through Policies and Partnerships.'
This report is a summary of the discussion and main items. Congress report with pictures
Project presentation
The Global Skin organization organized a separate session where patient organizations could present their projects. We presented our Patient Advocate project.
Disease burden of skin disorders in Europe
Marie-Aleth Richard shared the results of a study on the disease burden of skin disorders in Europe.
A series of presentations (members only)
Dr. Andrea Diociaiuti – The use of gene testing in pediatric dermatology
Dr. Anne Dompmartin-Blanchere – Venous malformations diagnosis & management
Dr. Antonio Torrelo – Approach to mosaic disorders in children
Prof. Dr. Laurence Boon – New treatments for arteriovenous malformations
Prof. Dr. Miikka Vikkula – Molecular and genomic diagnosis of vascular malformations
Prof. Dr. Suzanne Pasmans – Capillary malformations
Tobias Sangers, MD – AI in dermatology smartphone applications
Prof. Dr. Christien Bundy – What does shared decision making look like
Marc- Yale – Patient perspective: What does shared decision making look like to patients
Marcin Matych, MD Educating patients about treatment options for informed shared decision-making