CMTC-OVM Member Conference Netherlands 2019
CMTC-OVM Member Conference Netherlands 2019
Report CMTC-OVM Member Conference Netherlands 2019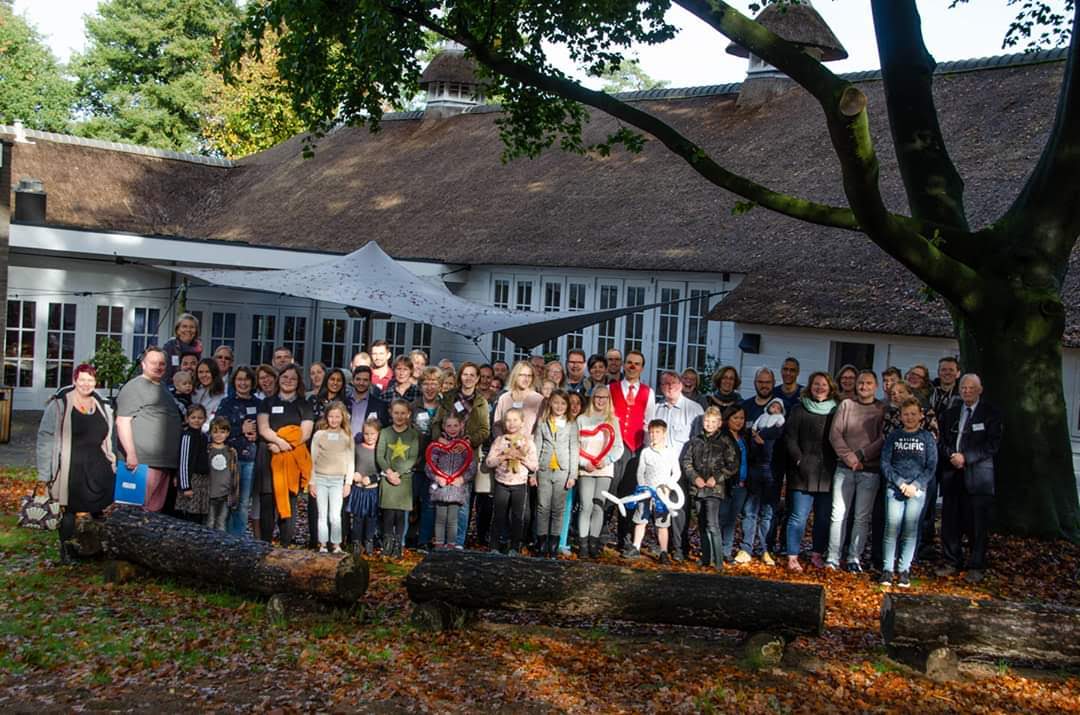 During the first weekend of November 2019 we organised our annual worldwide member conference in the Netherlands.
On Friday 1 November patients had access to elaborate medical research in the Erasmus MC in Rotterdam, a centre of expertise in the field of vascular malformations, with the WEVAR team.
We organised a welcome drink for the patients and speakers from various countries that arrived on Friday. Due to the atmosphere and setting in the conference centre, people can communicate much easier than in a hotel, for example. As someone once said, "in a hotel, I feel welcome, but here I feel at home". This applies to the children too. They start playing together in no time, even though they spoke different languages.
On Saturday about 80 people from Belgium, Germany, England, Greenland, the Netherlands and Slovakia registered for the conference. All participants received a conference folder which contained the programme and the speakers' biographies amongst other things.
There were speakers from different countries. One of our new speakers was Dr Patrick Kemperman. He is our new medical psychologist, replacing Dr Wouter van der Schaar who retired at the age of 84.
Besides our creative workshop, which was originally meant for children but participated in by many adults too, we provided virtual reality games and a murder mystery game in the woods for the youth. Parents also participated in this. It turned out the virtual reality roller coaster game was also very realistic to parents since they gripped their chairs rather tightly.
Below is a summary of several speakers.
Lex van der Heijden
As president of CMTC-OVM organisations, Lex opened the conference. After an online survey, the last member conference's notes were approved. Subsequently, the financial data were shared and the positive findings of the auditing committee were presented, after which the attendees discharged the treasurer for the financial year 2018. We are a transparent organisation and we share our financial data with our members and publicly on our website.
This year we introduced board elections. Board members are essentially active for a period of three years. After that, they can give up their position or run for re-election. There were no new candidates and all board members ran for re-election so the current board (Lex van der Heijden, Anja Fluijt and Jacob Schipper) will remain the same.
We are expanding the board with two new positions: 'youth representative' and 'patient advocate coordinator'. We are still looking for candidates to fill these positions.
The minimal member contribution of 2020 is the same as in 2019, i.e. 35 euro. After sharing the 2018 survey's results, the main activities for 2018 were shared.
The budget for the year 2020 was shared and it should be noted that we have submitted an application for a subsidy to the Ministry of Health, Welfare and Sport (VWS) which is still pending.
Dr. Maaike Vreeburg
Maaike Vreeburg is a clinical geneticist at the MUMC+ in Maastricht (the Netherlands). She has been working at the outpatient clinic for clinical genetics since 2003. In 2004, together with colleagues, she started a multidisciplinary outpatient clinic in the departments of clinical genetics and dermatology where patients could ask questions about hereditary disorders of the skin, nails, teeth, hair and blood vessels (so-called genodermatoses).
This session's report will be published in a separate article.
Niroshah Suthakharan, MSc
Nirohshah Trialonis-Suthakharan is a research assistant at the University Medical Center Hamburg. She is mainly involved in two international projects: the Global Psoriasis Atlas (GPA) and the Global Research for the impact of dermatological diseases (GRIDD). She also researches Global Burden of Disease-studies, mainly by approaching the weight of invalidity in skin diseases.
What is holistic patient-centred care (HPCC)? It is a concept that traditional healthcare will no longer be centred around medical caregivers, but patients. HPCC is increasingly integrated into caregivers' education. On one hand, HPCC provides a better understanding of how the disease affects patients and what the real needs of a patient are. On the other hand, this means that care will be coordinated and adjusted to a patient's needs. In addition, many other important factors within HPCC play a crucial role in ensuring high-quality patient care. This concept is quite complex and is unfortunately not the standard in many countries.
Niroshah shared several findings that became apparent in the research:
Consult waiting times are long. One of the attendees confirmed this by saying they once waited 1.5 years for an appointment with an expert.
Socially unaccepted touch without consent. A doctor cannot touch patients without consent.
Knowledge level: the patient is the expert. The community exists due to the lack of knowledge from experts/doctors.
Data are important because they represent the facts.
The technical possibilities around eHealth are developing rapidly. However, legislation (General Data Processing Regulation) may impose restrictions such as the use of WhatsApp by patient and physician, which is not formally permitted.
Drs. Johannes Verheijden
Johannes Verheijden (1965) has been working as a care coordinator for BOSK, the Dutch association of people with physical disabilities, for 16 years. In this position, he's an intermediary between "parents of…" / "persons with …" and professionals. He's coordinator/trainer at parent2parent.nl and project leader at a national parent-empowerment project called Emp/Ouder. His passion is connecting and empowering people, stimulating dialogue and exchanging knowledge and experience, so all parties can learn and propagate knowledge.
In general, it turns out that people on the outside don't always notice the concerns people have. For a lot of people, it's very hard to ask for help. They won't ask for help until they have their back against the wall. An expert's experience can differ from that of their immediate environment, with more concerns for the immediate environment than for the affected person. There was lots of recognition among participants, even though they were all in different situations. Participants gave each other tips on how to deal with certain situations.
Dr. Patrick Kemperman
Patrick Kemperman works as a dermatologist in the Amsterdam UMC and the Waterlandziekenhuis in Purmerend. He's a general dermatologist with two specialisations: psychodermatology and pruritus. His goal is to find a connection between the treatment of physical and psychosocial problems for people with a skin disease. In the field of research, he works on the relatively young field of psychodermatology. He strives for a future where psychological issues in skin disease receive more attention in order to ensure optimal treatment.
Maria Genova
There was a special item on our agenda again this year. Research journalist Maria Genova is a well-known speaker in the fields of identity fraud, privacy and information security. Her interactive sessions contain many practical examples and serve as eye-openers for many people. How do hackers work exactly? Which mistakes do you make regarding your pc or mobile phone? How can evildoers gain access to all customer files through you?
For her bestseller 'Komt een vrouw bij de h@cker' Genova emerged herself in the world of hackers and their victims. As a non-IT person, she can speak in a very approachable and engaging way and gives practical tips that help visitors to better protect themselves, but also their business, against the increasing digital dangers.
The lecture was about social media and online safety. Many people fall victim to fraud or identity fraud because they share too much information on social media. Three of the best ways to protect yourself from cybercriminals:
Use a different strong password for each website. Free programmes, like Lastpass or Keepass, can do this for you. In that case, you only need to remember one single complicated password. Use sentences instead of words in passwords. The best weapon against cybercriminals is a long password and the sentences are long enough usually (14 characters is already unacceptable).
Do not postpone your Windows or Apple updates. Doing so can make it easier for you to get hacked. The same goes for the updates on your phone.
Phishing emails are a large problem. Always check the sender's email, often you'll see strange email addresses. Another way to check a phishing email is by hovering over the link with your mouse. Never click on emails you don't trust. It takes just one click to hack someone. Make a back-up more often. In the case of ransomware, you can restore your data, otherwise, you lose everything or you have to pay the cybercriminals.
Dr. Hedy van Oers
Dr. Hedy van Oers studied child and adolescent psychology and has been working at the Psychosocial Department of the Emma Children's Hospital Amsterdam UMC since 2011.  She is the coordinator of the KLIK PROM (Patient Reported Outcome Measures, surveys) portal, www.hetklikt.nu. In 2019, she obtained her PhD in the field of 'Parent Reported Outcomes', about how parents with children who have a rare disease, are doing and how to properly measure this.
Dr Hedy van Oers spoke from the Amsterdam UMC about different interventions that have been developed at the psychosocial department of the Emma Children's Hospital, including the PROM portal KLIK.
Children with a chronic disease can face difficulties when it comes to the quality of life, psychosocial functioning and their development. The medical team is not always aware of these problems and they're not systematically talked about. This is possible by systematically displaying answers to surveys (Patient-Reported Outcome Measures, PROMs) in a PROfile. Parents and children fill in these surveys a few days before the outpatient appointment. One of the medical team's members will discuss the PROfile with the patient and parents during the appointment. The aim of KLIK is to systematically monitor symptoms and psychosocial functioning in children, adolescents and their parents and adult patients who are receiving treatment in a hospital. In addition, KLIK is a tool in the discussion of PROMs, which makes communication between the caregiver and patient easier and makes it easier to identify problems. When the problem is identified early, the child can be referred to specialised care, so larger problems can be prevented.
The effectivity of KLIK has been proved in multiple doctoral researches. KLIK has been implemented in paediatric care since 2011, and recently it has been implemented in adult care as well. Right now, there are 17,000 patients KLIK-ing in 60 patient groups (e.g. diabetes, oncology, juvenile arthritis, dermatology) in 25 centres across the Netherlands and this number is still growing. KLIK distinguishes itself as a patient portal from other portals because it contains much knowledge about facilitating and obstructing factors of implementing PROMs in healthcare. In addition, the KLIK team consists of (PhD) psychologists and methodologists to ensure that surveys, feedback and adjustments to the usage per patient group take place in a scientifically justified manner.
If you wish to take a look at the KLIK website, please visit www.hetklikt.nu, watch the videos or log in with email address PRO and password KLIK (capitalised). Under 'my patients' you can find PROfiles of several fake patients.
Marjolein van Kessel
Marjolein van Kessel has three children. Her second child was born with the rare condition Congenital Melanocytic Nevus (CMN), which causes congenital giant birthmarks. At first it seemed like a rather innocent skin condition, but it turned out to be a rare complication that caused the child to pass away in 2012 when he was 13 years old.
In the last round, there were parallel sessions for people who speak the same (native) language. This resulted in a session with Dutch speakers and a session with German and English speakers. The goal of this session was for people to speak freely without the restrictions of a language barrier. Designs, ideas, improvements etc. have been passed on to the board, which will get to work on this.
We videorecorded almost every session and they are available to our members.
Presentations (members only)
Videos (members only)
Minutes (members only)