Prof. Dr. Arnold Oranje
Prof. Dr. Arnold Oranje
Prof. Dr. Arnold Oranje passed away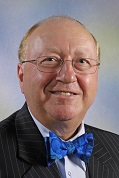 Prof. Dr. Arnold Oranje passed away on 19th October 2016 at the age of 68. He was our first medical advisor and has contributed a lot to our association. We will miss him a lot.
Although he was retired as a professor of child dermatology since 2013 he still worked almost full-time. He travelled a lot to conferences to give lectures, or to see patients.
Arnold Oranje was a consultant of general dermatology and child dermatology and (honorary) professor of child dermatology with a hospitality establishment at the Erasmus MC (The Netherlands), working in various locations such as: Maas Hospital Rotterdam (general dermatology), Dermicis Skin Hospital Alkmaar (especially for second opinions and child dermatology) and Intermedica Haarkliniek Geldermalsen (trichology general but particularly for children with hair disease).  As of January 1, 2014, he was available for teledermatological consultation through the website www.kinderhuid.nl
Oranje was previously deputy head of the Department of Dermatology and Venereology from 1999-2001 and he reorganized the basic training of dermatology in 2000.  He has written more than 400 scientific articles and his H (Hirsch) index is 32. He was co-editor of the Textbook of Pediatric Dermatology (Harper, Oranje and Prose, 2000 and 2006), was involved as a senior editor in the third edition (2012), and also as an editor of the Handbook of Dutch Paediatric Dermatology. Finally, he received several awards for his contribution to (child) dermatology, and in 2013 he became a Knight of the Order of Oranje-Nassau (Royal Award) for his achievements in general and child dermatology.
We wish his family and friends a lot of strength to cope with this great loss.