Rare diseases day Netherlands 2018
Rare diseases day Netherlands 2018
Report Rare diseases day Netherlands 2018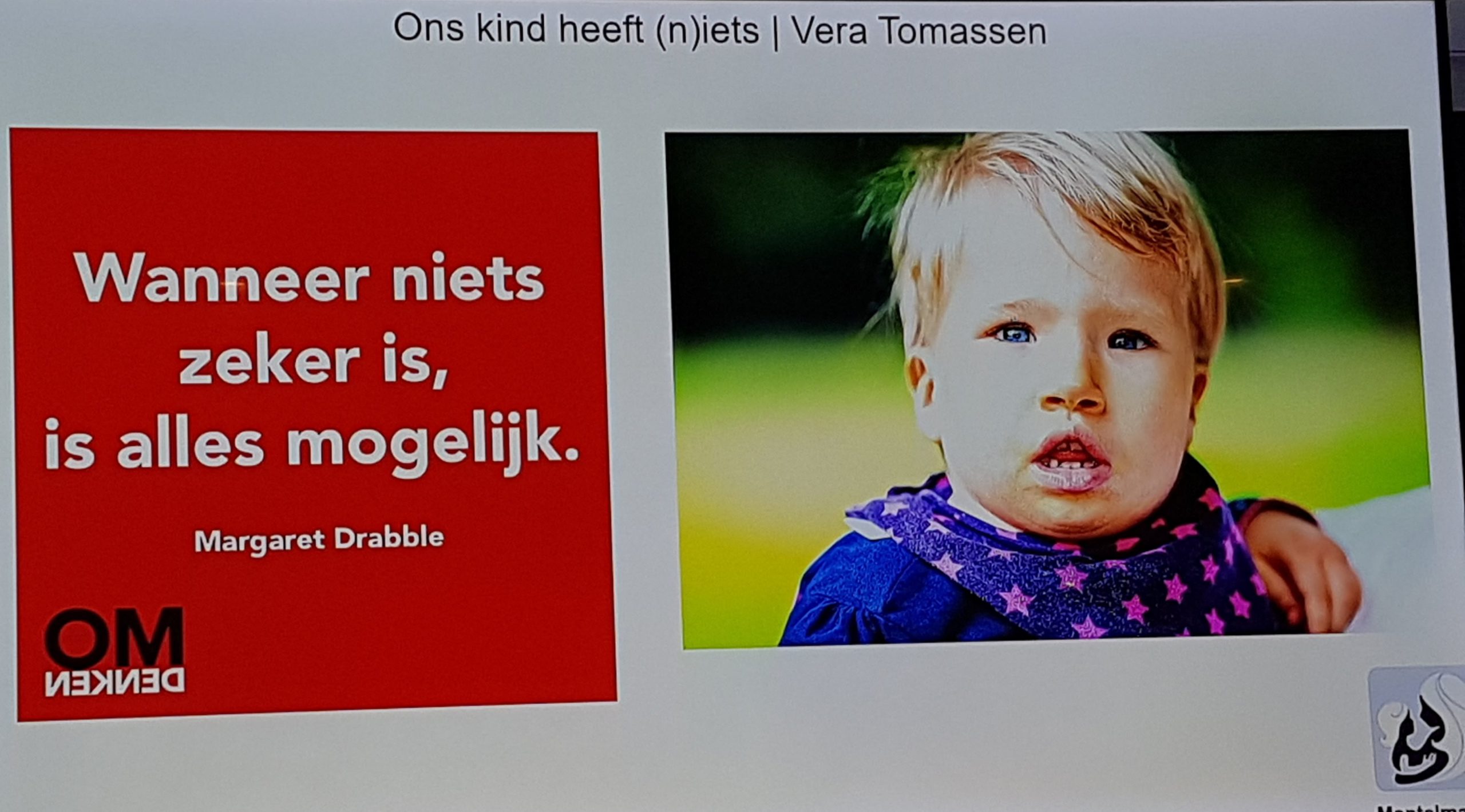 During the International Rare Disease Day, attention is paid annually to people with rare diseases on the last day of February.
Events take place in many countries. In this way, it is hoped to bring more rare diseases into publicity.
In the Netherlands, the VSOP (Association of Cooperating Parents and Patients Organization) organizes the annual conference for Rare Diseases Day. This year the congress took place on February 28 in Congress Center NBC in Nieuwegein. There were about 150 participants from many different organizations such as patient organizations, doctors, research institutes and pharmaceutical companies. The theme of the Rare Disease Day this year was 'The diagnosis: Rare Important!' During the meeting, researchers and patients shared (personal) experiences.
The day started at 9:45 am with a number of plenary presentations 'from symptoms to diagnosis'. After a welcome word, a number of presentations from both a parent and several doctors and a representative from the VSOP were started:
Vera Tomassen shared her personal and poignant story as Mantelmama of her child. A special statement: when nothing is certain, everything is possible '.
Dr. Manna Alma presented the results of her research on diagnostic delay. Most important points are summarized below in a separate section.
Drs. Arja Broenland and Dr. Jan Maarten van der Zwan sketched a picture of 'cancer care in the picture: rare cancer'.
After their presentation they handed over a report about this to Dr. Erik Gerritsen (Secretary General Ministry Health, Welfare and Sport).
Subsequently, a series of three parallel workshops was organized with the aim to come up with a number of recommendations per workshop, which are then taken up by the VSOP. The following topics were covered in this first series of workshops:
Recommendations for the diagnosis of rare oncological disorders (Prof. Dr. Carla van Herpen and Dr. Annemiek Kwast).
Recommendations for general awareness and public information (Klaas Doslma and Erik van Uden).
Recommendations for public awareness and information (Dr. Manna Alma and Marianne Nijhuis).
After the (network) lunch was again a number of plenary presentations and this time with the topics:
Feedback from the workshops.
Prof. dr. Irene van Langen and Linda Koehorst had chosen 'just as important' for their presentation as their title. Experiences with broad carrier screening in the north of the Netherlands. This included ethical aspects such as whether or not they wanted to know the parents of all kinds of diseases that had been discovered with the help of the heel prick.
Prof. dr. Martina Cornel extensively discussed neonatal heel prick screening.
Prof. dr. Han Brünner concluded this series of presentations with 'Solve-RD: the European road to the diagnostics of the future for rare diseases'.
Then the second series of workshops was:
Recommendations for the organization and quality of care (Prof. Dr. Gerlof Valk and Peter Verhoeven).
Recommendations for research (Prof. Dr. Gerard Wagemaker and Dr. Judith van der Meerakker).
Recommendations for policy (Dr. Cor Oosterwijk and Dr. Jeroen Crasborn).
After a panel discussion, the results of the second series of workshops were shared. All recommendations are further elaborated and published later.
The afternoon was closed with a (networking) drink and a dinner buffet.
The evening was opened with the video 'Rare is visible' and through the personal story of Mathijs Assink and Dr. Gijs van Haaften. Mathijs has lost both children to a 'new' lethal lung disease 'LIC' (lung disease immunodeficiency chromosome fracture). After his presentation with photos, among other things, it was quiet in the room.
Dorien Müller, Dr. Bouke Hazenberg and Koenraad Verhagen told about Amyloidosis in which they shared the sequence of coincidences with us.
Vincent Bijlo (comedian, writer and columnist) arranged for an intermezzo and performed again at the end of the evening.
Villa Joep shared with us how they organized their successful fundraising.
Angel award winnaars
Pediatric endocrinologist Professor Anita Hokken (Erasmus MC) received an Angel Award for her inexhaustible efforts for children and young adults with the Prader-Willi syndrome. Since 2002 she is very involved with this group of patients and their parents.
Ms. Klaske Faaij-Hofstede received an Angel Award for 10 years of voluntary commitment for the STOPhersentumoren.nl foundation. She collected more than 5 million euros for brain research, brought together scientists worldwide and was the basis of the new brain tumor classification that the WHO introduced in 2016.
The Expertise Center Rendu-Osler-Weber in the St. Antonius Hospital in Nieuwegein received an Angel Award because the center has been distinguished nationally and internationally for years because of their enormous expertise and knowledge in the field of Rendu-Osler-Weber. Patients with this rare and hereditary disease of the blood vessels visit the center for diagnosis, treatment and advice.
Finally, it was around 9:15 PM time for the presentation of the Angel Awards to people who have made themselves particularly deserving the category patient / neighbor, medical / scientist / health care provider and others.
Prof. Dr. Manna Alma
Prof. Dr. Manna Alma works at the University Medical Center in Groningen and has done research on the delay in the field of diagnoses. Below are a number of topics from her presentation.
According to the European Organization for Rare Diseases Eurordis (www.eurordis.org), in the case of a rare disease in 25% of cases the diagnosis is made between 5 and 30 years. Diagnostic delay not only results in health problems, but also an inefficient use of health care facilities and insecurity among patients and relatives.
The duration of diagnostic procedures varies from 0 to 69 years. Below an overview of such processes (duration of diagnosis and percentage):
0 – 1 year: 14%
1 – 2 years: 9%
2 – 5 years: 17%
6 – 10 years: 12%
11 – 20 years: 14%
longer than 20 years: 31%
In nearly one-third of cases, a diagnosis lasts more than 20 years!
She also conducted research on the number of medical specialists who were visited during the diagnosis trajectory. Below an overview of the number of medical specialists visited and percentage:
1 -2: 22%
3 – 5: 43%
6 – 10: 23%
11 – 20: 8%
more than 20: 5%
It is clear here that making a diagnosis requires a multidisciplinary approach in which the patient is preferably viewed by a whole team of medical specialists during a joint consultation. For example, we apply this in cooperation with the WEVAR team in Rotterdam.
The study also revealed that in 46% of cases an incorrect diagnosis was given and that 56% of the patients had the wrong treatment (such as 59% wrong medication, 58% wrong paramedical care and 21% wrong surgery). These are worrying figures, in particular for the patient and also for the costs of health care. The consequences of faulty diagnosis are 57% physical, 48% mental and 39% other consequences.
The experience of a diagnosis process has also been investigated. The most important findings are:
Parents do not feel taken seriously (over-anxious parent, incomprehension, sadness, angry and powerless).
Uncertainty and ignorance (the need is clarity).
Frustrations (hospital does not have things in order and / or confront each other, incomprehension of the environment).
Powerless ('calling in the desert', 'roller coaster without steering').
Fear and hope (losing child, wrong diagnosis: 'deep inside you just know that it is not right, but yes that hope always stays').
The consequences of a diagnostic process should not be underestimated! Various parties are involved in this:
Parents (fatigue due to struggle, stress, tension, guilt, regret and the impact on partner relationship and social contacts / activities). As a positive, it emerged that the parents had become more assertive and resilient and the empathic capacity had increased.
Child (physical: unnecessary pain, weakened, decline, developmental delay Mental: fear of hospitals, psychological consequences). Too much of the child's request. Could have lived an ordinary life. Incomprehension of peers.
Use of care (less trust in health care professionals and no longer GPs).
Conclusion
The duration of the diagnosis has a large variation (14% within 1 year, 25% within 2 years and 33% more than 20 years).
For parents a period of uncertainty, frustrations, powerlessness.
A diagnosis means for a child the possibility of a proper treatment / approach and for the parents a handle to go with the child. A diagnosis gives clarity about the future.